Wiki Targeted (Entertainment)
Play Sound
This story has not yet been fully published. Please exercise caution in asserting any more than is actually present in the narrative so far. Be aware that certain facts which appear to be true may not be true once the story is completely published.



Omega was the primary comic story of the publication of the same name. It is a spin-off of Doctor Who making use of Bob Baker and Dave Martin's individual license to the titular character from The Three Doctors as well as the planet Minyos and its people from Underworld.
Publisher's summary
[
]
The people of the planet Minyos are in revolt against their alien gods. This chaos is being stoked by the rogue god Omega, who longs to free himself from his black hole prison and wreak revenge. But brave Princess Malika, last of the Minyan royal family, is determined to fight back.
Plot
[
]
to be added
Characters
[
]
Princess Malika
Captain Himoyachi

Repair man

Guard

Landlady

Battle Android

Man

Kyril

Trader

Pilot
References
[
]
Princess Malika is the last living member of the Minyos royal family.
Oxirgi sparked the Minyans to revolt against their Gods on the behalf of Omega.
Malika sends messages with a bird-like messenger drone.
Notes
[
]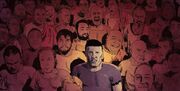 This comic story credited thanks to Bob Baker, Louise Jameson, Paul Tams,

Justin Johnson

, Marcus Hearn,

John Setrice

, Dez Skinn, John Freeman, Darren Scott,

Stephen Jewell

,

Karl Brown

,

Christian Tarpey

,

Annie Wallace

,

Paul Phillips

,

Louise Wade

,

Michael Perler

,

Laurence Hallam

,

Christopher Colley

,

Paul Dawson

,

James Thresher

,

Alistair Wallace

,

Harald Gehlen

, Ian Fensome, Vitas Varnas, Daniel Croatto, Neil Kenny, James Gould, Martin Parsons, Christopher Knight, Frank Rhoden, Lea Boyles, Mark Kalita, Noel Warham, Jules Samuels, Lucas A Ferrara, Antonio Amaral and Cornelius Blanc.

Many of these individuals had been God-tier backers of the Omega Kickstarter campaign, and had their likeness used in the crowd scene of the first issue.
Continuity
[
]
External links
[
]
Regeneration stories
For the purposes of this list, a "regeneration story" is one in which a regeneration is actually and initially depicted. For this reason The War Games is not included below, even though it is commonly thought of as a "regeneration story". It doesn't actually include a clear scene of regeneration, and the preponderance of stories in other media confirms that the Second Doctor did not regenerate at the end of it.
Additionally, immediate post-regeneration stories, like the 2005 Children in Need Special — and ones like Castrovalva, where the regeneration sequence was replayed — are not included.
The Doctor

The Master

Television
Prose
Comics
Audio
Alternate universe

Romana

Other Time Lords

Television
Prose
Audio
Comics

Gallifreyans

Shobogans

Proto-Time Lords

Others

Television
Prose
Comics

Omega

Audio

Regeneration is usually considered a biologic process exclusive to Time Lords and a few other species. However, some consider Regeneration and The Eclipse of the Korven to also be "regeneration stories", though neither describes anything close to a biological process. Korven is a particularly hard one to include in this list, because K9 is said to "regenerate" but is largely physically unchanged.