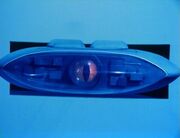 An oculoid was a device used as a reconnaissance probe. The Morestrans on Zeta Minor deployed an oculoid from their probe ship to track down the Fourth Doctor and Sarah Jane Smith. Initially, they were able to avoid it, but it eventually located them and the Morestrans dispatched a team to retrieve them.
Controller Salamar ordered the oculoid to be used to monitor the Doctor when he went to negotiate with the anti-matter creature. (TV: Planet of Evil)
Community content is available under
CC-BY-SA
unless otherwise noted.