Wiki Targeted (Entertainment)
Play Sound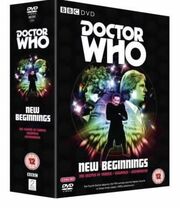 New Beginnings is the title of a DVD box set issued by BBC Video and 2 Entertain (DVD 1331) in January 2007 in the UK and in June 2007 in North America and Australia. It was a three-DVD set that included The Keeper of Traken, Logopolis and Castrovalva — the final two stories featuring Tom Baker as the Fourth Doctor and Peter Davison's debut as the Fifth Doctor. The three stories form a story arc related to not only the Doctor's regeneration, but the return of the Master.
Each DVD was also released separately in Region 1.
Episode 4 is altered slightly to add a tribute to the late Anthony Ainley at the end, with an on-screen dedication and a short outtake of Ainley from the recording sessions for the computer game Destiny of the Doctors.
Commentary by actors Anthony Ainley, Matthew Waterhouse and Sarah Sutton, plus writer Johnny Byrne. This commentary was recorded considerably before the actual release of the DVD, as Ainley died in 2004.
Being Nice to Each Other (dur. 30' 04") - a documentary on the making of the series, featuring interviews with Sarah Sutton, Sheila Ruskin, Geoffrey Beevers, director John Black, writer Johnny Byrne and script editor Christopher H. Bidmead.
The Return of the Master (dur. 08' 40") - featurette on the return of the Master to the series, featuring interviews with Geoffrey Beevers, Christopher H. Bidmead and John Black
A Sarah Sutton appearance on Swap Shop (dur. 11' 14").
TV trailers and continuity announcements.
Isolated music score audio track.
Production notes subtitles.
Photo gallery.
DVD-ROM material: Doctor Who Annual 1982, Radio Times listings and BBC Enterprises promotional literature for Season 18.
Programme Subtitles, Subtitle Production Notes, TV trailers and continuity announcements, Photo Galleries, isolated synchronous music, PDF Material - the 1982 Doctor Who Annual, Radio Times listings and the BBC Enterprises Season 18/19 sales literature
Community content is available under
CC-BY-SA
unless otherwise noted.