Nemesis was the episode of Doctor Who Confidential broadcast in conjunction with The Unicorn and the Wasp. It was titled after the Agatha Christie novel of the same name.
The thrust of the episode was to explain how Unicorn was, in production terms, very much like a traditional hour of mystery television. The story required, because of the storytelling conventions it tried to honour, a large cast — all of whom had to be equally filmed so the director's shot choices didn't give away the murderer. This meant, as several participants explained, many more takes of the same scene than usual for Doctor Who. The impact of having to setup multiple times for the same scene to cover different actors was explained several times throughout the episode.
Aspects of production covered
[
edit
|
edit source
]
"Shut Up And Drive" by Rhianna, Album: Shut up and Drive[1]
"Step Back In Time" by Kylie Minogue, Album: Kylie: Greatest Hits
"The Bee Song" by Athur Askey, Album: Young At Heart - Children's Favourites
"Take Me To The River" by Talking Heads, Album: More Songs About Buildings And Food
"Ready To Go" by Republica, Album: The Best Girl Power Album - Ever!
"Armchair Detective" by Reverend and the Makers, Album: The State of Things
"Over And Over" by Hot Chip, Album: The Warning
"She Moves She" by Fourtet, Album: Rounds
"I Got Stung" by Elvis Presley, Album: Elvis The Collection Volume 2
"Grieving For You" by Jack Hylton's Rhythmagicians, Album: Jazz in Britain
"Arkansas" by Fred Elizade And His 'Hot' Music, Album: Jazz in Britain
"After You've Gone" by Billy Cotton and his Cotton Pickers, Album: Jazz in Britain
"Woe Is Me" by Billy Cotton and his Cotton Pickers, Album: Jazz in Britain
"Insomnia" by Faithless, Album: Reverence
Elements retained in Cut Down

[

edit

|

edit source

]
to be added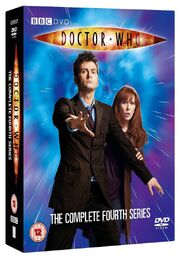 The "Cut Down" version of this episode was included on the Doctor Who: The Complete Fourth Series DVD box set released on 17 November 2008.
Community content is available under
CC-BY-SA
unless otherwise noted.