Muse of Fire was two hundred and forty-fifth release of Big Finish's monthly range. It was written by Paul Magrs and featured Sylvester McCoy as the Seventh Doctor, Sophie Aldred as Ace and Philip Olivier as Hex.
Publisher's summary
Edit
Oooh la la! It's been a long time coming, but the Doctor is about to be reunited with Iris Wildthyme! They're both in 1920s Paris and everyone's flocking to Iris's salon.
But wait...! What's that noise..? Thud thud thud...! It's the soft, approaching feet of a small and acerbic Art Critic Panda...!
to be added
References
Edit
to be added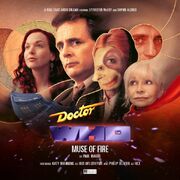 Continuity
Edit
External links
Edit
Main Range
Fifth Doctor
Adric, Nyssa, Tegan
Nyssa, Tegan, Marc
Nyssa
Nyssa, Brewster
Nyssa, Hannah
Nyssa, Tegan
Nyssa, Tegan, Turlough
Tegan, Turlough, Kamelion
Tegan, Leela
Turlough
Peri
Peri, Erimem
Amy
Solo travels
All stories in the main monthly range are included in this navigation box including the "subscriber exclusive" stories which are part of Big Finish Productions' subscription service for this range. All other stories are represented in other navigation boxes.
Community content is available under
CC-BY-SA
unless otherwise noted.