Jurassic World: Dominion Dominates Fandom Wikis - The Loop
Play Sound


An extended cut version of 30 Years in the TARDIS was released on BBC Video in 1994, where it was retitled More than 30 Years in the TARDIS and restored many interviews that had to be cut for the BBC broadcast, and added several new minisodes and "skits" as well as extended footage of those already present in the televised cut.
VHS cover text
[
]
"It was sixteen minutes past five (Earth Time) on Saturday the 23rd November 1963, the day after the assassination of President Kennedy, when Doctor Who first materialised on to BBC Television. Squeezed in between the football results and the Telegoons, a legend was born".
So, from humble flickering beginnings more than 30 years ago, began the eccentric Timelord's crusade against evil. Now this fascinating documentary charts that remarkable career in time travel.
There are dozens of classics excerpts featuring all seven Doctors, clips from the widescreen trailers of the two Dalek movies starring Peter Cushing, plus recently discovered material.
More than just a nostalgic birthday programme, this unique documentary made specially for BBC Video, features:
Archive Gems
scenes from the missing 1965 Dalek episode "DEVIL'S PLANET"
colour film of WILLIAM HARTNELL at a 1966 airshow, plus pictures from his own scrapbook
Dalek creator TERRY NATION on WHICKER'S WORLD in 1968
Behind The Scenes
Action from the studio floor including CARNIVAL OF THE MONSTERS (1972), DEATH TO THE DALEKS (1973), THE CAVES OF ANDROZANI (1984), GHOSTLIGHT (1989)
Pure Nostalgia
BLUE PETER - the Doctor Who monster competition winners, the unveiling of the Whomobile and the War Machine
NATIONWIDE - the TOM BAKER interview
Pebble Mill at One - interview with Patrick Troughton and visual effects designer Bernard Wilkie
More Treasures From The Cutting Room Floor
Battlefield - the Brigadier meets Ace for the first time
Sophie Aldred and the water tank stunt that went wrong
Remembrance of the Daleks - is there more to the Doctor?
All this plus two exclusive Doctor Who commercial breaks, spoofs by CRACKERJACK and SPIKE MILLIGAN, candid moments and bloopers from across the years, specially shot interviews and an all star cast of favourite Doctors, assistants and of course, monsters.
An ultimate celebration of the world's longest running science fiction TV series, this special BBC Video includes footage from Thirty Years in the TARDIS, originally transmitted on 29 November 1993.
Main subject
[
]
The documentary featured appearances by the surviving Doctor actors, including Jon Pertwee, and numerous companions. Nicholas Courtney hosted the documentary, partially in character as the Brigadier. The documentary also included a section on the 1960s Peter Cushing films.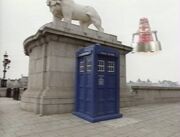 Towards the end several notable scenes occur:
A demonstration of how modern-day (for 1993) special effects could be applied to Doctor Who as the camera follows a boy into the TARDIS from outside, with the effects seamlessly moving from location to studio interior. Carole Ann Ford, possibly in character as an adult Susan Foreman, awaits him inside. Such a scene does not take place in Doctor Who proper until the 2012 Christmas special The Snowmen.
The same boy takes part in a rather sinister, cliffhanger-like sequence in which Elisabeth Sladen appears to be taken over by an alien influence. This is followed by Courtney being driven away in a limousine — driven by an Auton.
Following the closing credits of the VHS release, BBC controller Alan Yentob is captured on video being evasive when asked by an interviewer about rumours of a new Doctor Who production being imminent. This is followed by a multi-layered vision sequence featuring multiple Daleks achieved through real Daleks, models and animated images. Such a high concentration of Daleks appearing on screen would not be achieved until many years later in such stories as The Parting of the Ways and Asylum of the Daleks.
Additional topics covered
[
]
People interviewed
[
]
In order of credited appearance.
Clips seen
[
]
Clips from a wide range of Doctor Who related film were shown.
R.A.F. Finningly Airshow 8mm film (18 September 1965)
Pebble Mill at One, TX: 21 December 1973.
The Lively Arts: Whose Doctor Who, TX: 3 April 1977.
Blue Peter, TX: 5 November 1973.
Good Morning with Anne and Nick, TX: 20 January 1994.
Whicker's World: A Handful of Horrors - I Don't Like My Monsters to Have Oedipus Complexes, TX: 27 January 1968.
Dr. Who and the Daleks trailer.
Daleks' Invasion Earth 2150 A.D. trailer.
Walls' Sky Ray advert (1967)
Prime Computer adverts (1979-80)
Looking In, TX: 7 November 1972.
Blue Peter, TX: 14 December 1967.
Blue Peter, TX: 20 June 1966.
Talkback, TX: 3 October 1967.
Crackerjack, TX: March 1974.
Crackerjack: Hallo My Dalek, TX: 21 March 1975.
Spike Milligan's Q6: "Pakistani Dalek" sketch, TX: 11 December 1975.
Nationwide, TX: 24 October 1980.
As well as excerpts from two songs:
Minisodes
[
]
Interspersed throughout the documentary were several short minisodes (three of which, including one split in two parts, were already present in 30 Years in the TARDIS). They included original footage and narratives, intended to display glimpses into the Doctor Who universe with all the detail that new special effects could avail it.
Some broke the fourth wall while others did not. Two of these shorts had on-screen titles; titles for several others were given in the VHS booklet as part of the "chapters list" of the documentary. However, several of the skits remained nameless.
Order
Title
Featuring
Present in 30 Years in the TARDIS?
Notes
1
Invasion of Earth
Monoids, Dalek Troopers, Vogans, Autons, Second Doctor, Jamie McCrimmon, Victoria Waterfield, Dalek
Yes
Breaks the fourth wall. Uses stock footage from The Ark in Space, Resurrection of the Daleks, Revenge of the Cybermen, Spearhead from Space and The Web of Fear alongside new footage.
2
Susan and the Daleks
Susan Foreman, Daleks
Slightly longer cut than that in 30 Years in the TARDIS; split in two parts.
3
Untitled 1
Susan Who, Daleks, Robomen
No
N/A
4
Return of the Dinosaurs
Jon Pertwee, Whomobile, dinosaur
Breaks the fourth wall; split in two parts, with "Part 2" bearing the title Monsters and Companions
5
Invasion of the Cybermen
Cybermen, Nicola Bryant, Colin Baker, Cybermat
Yes
Longer cut than that in 30 Years in the TARDIS. Breaks the fourth wall. Divided in three parts.
6
Untitled 2
Ogron, Draconian
No
N/A
7
Untitled 3
Sontaran
Has a short stinger just before the credits.
8
Laughter and Tears Behind the Scenes
Sylvester McCoy, Sophie Aldred, Fifi, the Destroyer, Haemovore
Breaks the fourth wall. Split in two parts. Laughter & Tears Behind the Scenes appears as the onscreen title of "Part 2", but no other title is given for the story.
9
The Auton Invasion
Nicholas Courtney, Autons, Whomobile
Yes
Breaks the fourth wall
10
Emperor of the Daleks
Dalek Emperor, Jamie McCrimmon, Victoria Waterfield
No
Post-credits
Crew 
[
]
Narrator - Nicholas Courtney
Dalek Voices - Michael Wisher
The Boy - Josh Maguire
Monsters, Daleks and other nasties - Toby Aspin, Heather Barker, Daniel Cohen, Barnaby Edwards, Mark Gatiss, Steve Gostelow, Derek Handley, Alistair Lock, Stephen Mansfield, David Miller, Nick Pegg, Adrian Rigelsford, Gary Russell
Cybermen -

Steve Austen

, Steve Gostelow, Paul Langley, John Morosini-Whelan, Nick Pegg, Kevin Ryan, Paul Slade, Dean Taylor,

Graham Tongue

Programme Consultant - Andrew Pixley
Archive Extracts Research - Ian Levine, Richard Molesworth,

Ralph Montagu

, Steve Roberts, Paul Vanezis
The Director wishes to thank - The Cast and Crew of Doctor Who,

Paul Buckland

for The Whomobile, Julian Vince for the Emperor Dalek, Pete Tyler, Jim Francis, Andy Hopkinson, Andrew Beech,

Mark Short

, The Natural History Museum, Quasar, Slough, David Jackson, Delia Derbyshire, Jessica Carney, Gary Russell, Marcus Hearn
Daleks and Monster Costumes supplied by -

Steve Allen

, Andrew Beech, David Brian, Tony Clark, Roger Dilley, Steve Gostelow,

Mick Hall

, Derek Handley, Andy Hopkinson, David Howe, Ian Levine, Alistair Lock, Susan Moore, Mike Tucker, Julian Vince
Special Costumes made by - Robert Allsopp, Derek Handley, Stephen Mansfield, David Miller, Susan Moore
Digital Compositing on VENICE system - Tim Burgess
Matte Painting - Tony Pulham
Cybermat and Auton Visual Effects - Mike Tucker
Motion Control Camera - Pete Tyler
Special Archive Sound Effects by - Brian Hodgson & Dick Mills of the BBC Radiophonic Workshop
Doctor Who Theme Composed by - Ron Grainer
Facilities - ACE Editing, BBC Pebble Mill, Gemini Audio Productions, Rew Broadcast, Touch Animation
Dresser -

Giles Gale

Runner -

Claire Harrison

Electrician -

Geoff Brown

Gaffer -

Billy Byrne

Grips -

Bob Howland

Sound Recordists - Mark Ayres, Dick Boulter, Bruce Galloway,

Alex Marsden

,

Nigel Reed

, Simon Wilson,

Eric Wisby

,

Tony Wornum

Dubbing Mixers - Mark Ayres,

Craig Irving

TV Version Editors -

Francis Buchanan

,

Lynda Featherstone

Extracts Compiled by - Paul Vanezis, Steve Roberts
Essential Info Graphics -

Steve Bonnett

,

Keith Haynes

Opening Titles -

Ralph Montagu

Poster Art - Tony Clark
Astons -

Simon Ashcroft

,

Duncan Sutton

Make-up - Paige Bell
Costume - Colin Lavers, Ken Trew
Photography -

John Adderley

Additional Photography - Peter Chapman
Designers - Andrew Howe-Davies,

Phil Robinson

,

Chris Thompson

TV Version Unit Manager -

Judi Wild

Researcher -

Jane Rundle

Production Assistant -

Sheila Casstles

Editor -

Paul Ratcliffe

Original Music & Sound Design - Mark Ayres
Additional Interviews Directed by -

Joanna Bailey

, John Bush,

Alexis Giradet

,

David Jeffcock

,
TV Version Executive Producer - John Whiston
TV Version Producers - John Bush,

Alexis Giradet

,

Caroline Wright

Business Affairs -

Martin Perrigo

Production Associate -

Simon Ashwood

Executive Producer -

Sue Kerr

Produced & Directed by - Kevin Davies
To be continued...?
Home video releases
[
]
The documentary was released as the extended More than 30 Years in the TARDIS on its own in VHS format in 1994. Preview copies of the tape had included a Weetabix advert from the 1970s, but this was edited out of the final release due to clearance difficulties.
It was included in the 2013 DVD release of the box set called The Legacy Collection.
Footnotes
[
]
↑ Taken from

Whicker's World

: A Handful of Horrors - I Don't Like My Monsters to Have Oedipus Complexes, TX: 28 January 1968.