An extended cut version of 30 Years in the TARDIS was released on BBC Video in 1994, where it was retitled More than 30 Years in the TARDIS and restored many interviews that had to be cut for the BBC broadcast.
Publisher's summary
Edit
An extended version of a documentary first show in November 1993 as part of the 30th anniversary celebration of everybody's favourite science-fiction series, Doctor Who. Including contributions from Doctors Jon Pertwee, Tom Baker, Peter Davison, Colin Baker and Sylvester McCoy, plus a whole gang of their companions, More than 30 Years in the TARDIS was a fitting tribute to a series that had ended in 1989. With many stunning recreations of classic scenes, this special documentary contains rare footage, deleted scenes and classic monsters as you've never seen them before...
Main subject
Edit
to be added
The documentary featured appearances by the surviving Doctor actors, including Jon Pertwee, and numerous companions. Nicholas Courtney hosted the documentary, partially in character as the Brigadier. The documentary also included a section on the 1960s Peter Cushing films.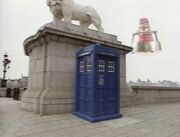 Towards the end several notable scenes occur:
A demonstration of how modern-day (for 1993) special effects could be applied to Doctor Who as the camera follows a boy into the TARDIS from outside, with the effects seamlessly moving from location to studio interior. Carole Ann Ford, possibly in character as an adult Susan Foreman, awaits him inside. Such a scene does not take place in Doctor Who proper until the 2012 Christmas special The Snowmen.
The same boy takes part in a rather sinister, cliffhanger-like sequence in which Elisabeth Sladen appears to be taken over by an alien influence. This is followed by Courtney being driven away in a limousine — driven by an Auton.
Following the closing credits of the VHS release, BBC controller Alan Yentob is captured on video being evasive when asked by an interviewer about rumours of a new Doctor Who production being imminent. This is followed by a multi-layered vision sequence featuring multiple Daleks achieved through real Daleks, models and animated images. Such a high concentration of Daleks appearing on screen would not be achieved until many years later in such stories as The Parting of the Ways and Asylum of the Daleks.
Additional topics covered
Edit
to be added
People interviewed
Edit
In order of credited appearance.
Clips seen 
Edit
Clips from a wide range of Doctor Who related film were shown.
Various Blue Peter clips 
Crackerjack's 'Ello My Dalek
Spike Milligan's Pakistani Dalek sketch
Acting scenes 
Edit
Freshley filmed scenes were added with in character acting. The actors would break suddenly into character for these scenes. At the end of the documentary these in-character scenes were implied to take place within the boy's mind.
to be added
Home video releases
Edit
The documentary was released as the extended More than 30 Years in the TARDIS on its own in VHS format in 1994. Preview copies of the tape had included a Weetabix advert from the 1970s, but this was edited out of the final release due to clearance difficulties.
It was included in the 2013 DVD release of the box set called The Legacy Collection.
Footnotes
Edit
↑ Taken from Whicker's World - I don't like my monsters to have oedipus complexes documentary first screened in 1968.