Wiki Targeted (Entertainment)
Play Sound
The Miracle Rally was an event which took place in Los Angeles during the Miracle. It was promoted by PhiCorp in order to raise money for the overflow camps.
Following an introduction by the Vice President, the President was to speak live from the Oval Office at 4PM. (TV: The Categories of Life)
Originally, Ellis Hartley Monroe was also due to speak at the Miracle Rally. However, Oswald Danes later replaced her following a sudden hike in popularity. (TV: Escape to LA)
According to the running order, Danes was the fourth guest to appear, going on stage 90 minutes before the President, who didn't want to be seen to be associated with a murderer and rapist. (TV: The Categories of Life)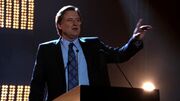 Despite his stint being cut to just 90 seconds, and an initially frosty reception, Danes ended his speech with cheers from the crowd. He spoke of making the leap fifty thousand years BC from animals to humans, and compared the effects of the miracle to humans ascending into angels. At the end of his speech, the word "Revelation" cued the screens at the back of the stage to display the PhiCorp logo.
The event was a big draw, with audiences flying into the city. In particular, Jessica MacCauley arrived early from Redlands, and was most looking forward to seeing Oswald Danes. The Prime-time News Channel reported live from the Miracle Rally. (TV: The Categories of Life)
Community content is available under
CC-BY-SA
unless otherwise noted.