Jurassic World: Dominion Dominates Fandom Wikis - The Loop
Play Sound


Mastermind was the first story of the eighth series in The Companion Chronicles audio range. It was the produced by Big Finish Productions. It was written by Jonathan Morris and featured the Decayed Master.
The other characters in this story were played by Daphne Ashbrook and Yee Jee Tso, actors who had starring roles in the Doctor Who movie.
Publisher's summary
[
]
The Vault — an archive of alien artefacts securely stored deep beneath the Angel of the North.
There's also a prisoner in the Vault. An extraterrestrial known as the Master. He has been on Earth for some time, but now he's under lock and key.
This is his story.
Or, as Captain Ruth Matheson and Warrant Officer Charlie Sato discover... perhaps it is theirs.
Plot
[
]
to be added
Cast
[
]
Uncredited cast
[
]
References
[
]
Notes
[
]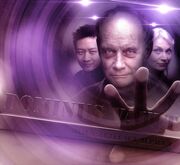 Continuity
[
]
External links
[
]
The Master stories
Early life

Television
Prose
Audio
Webcast

Dreyfus

Brayshaw

Delgado

The cycle
ending

Macqueen

"Merlin"

Pryce

"War Child"

War Master

Simm

Missy

The Lumiat

Spy Master

Unclear
incarnation

Parallel
universes

From stories
considered
not part
of the DWU
by this Wiki

According to one account, the Master had the appearance of Roger Delgado while on Gallifrey. According to another, he had Anthony Ainley's likeness. According to another one, the one with James Dreyfus's appearance was the incarnation who ran away from Gallifrey.

Divided Loyalties and A Brief History of Time Lords feature, or otherwise acknowledge, the War Chief, but in the process contradicted the notion put forward by other stories that he was an incarnation of the Master.

One account suggests that the incarnation portrayed by Roger Delgado may be the same as the one portrayed by Peter Pratt while some others distinguish them. According to one account, the incarnation portrayed by Gordon Tipple is the one portrayed by Anthony Ainley, while some others state that the Ainley one was already lost by then.

While fighting to extend his life at the end of his regeneration cycle, many bodies were possessed by the Beevers incarnation, but all kept somehow reverting to his real being until he finally regenerated into the MacQueen one. Hence, these sections cannot be strictly chronological