Masquerade was the one hundred and eighty-seventh story in Big Finish's monthly range. It was written by Stephen Cole and featured Peter Davison as the Fifth Doctor, Sarah Sutton as Nyssa and Francesca Hunt as Hannah Bartholemew.
Publisher's summary
Edit
France, the year 1770: by special invitation, the famous "Doctor", friend of Voltaire, arrives at the lonely estate of the lovely Marquise de Rimdelle – once a hostess to the highest of high society, now isolated by the strange, pernicious mist that lingers round the countryside.
But there's more in that fog than mere vapour, confesses the Marquise's strange niece to the Doctor's ward, Nyssa. She senses some uncanny machine circling the fringes of the estate, in the space between the shadows. Watching. Always watching. She's given it a name: "the Steamroller Man".
Meanwhile, the man in the cellar talks to the Doctor; a dead man, trapped behind the cellar walls. The Steamroller Man is coming, he says; coming to smash the place down. It seems the Doctor has been drawn into a very dangerous liaison...
Part one
Edit
to be added
Part two
Edit
to be added
Part three
Edit
to be added
Part four
Edit
to be added
References
Edit
The Doctor tells Nyssa and Hannah that the Marquise de Rimdelle's estate room is decorated in the rococo style.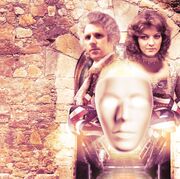 This story was recorded on 8 and 9 May 2013 at The Moat Studios.
Subscribers whose subscriptions included this story also received the audio short story Late Night Shopping.
Just as with the previous release, Francesca Hunt isn't credited on the Big Finish page, but plays a much more prominent role in this story.
Continuity
Edit
External links
Edit
Main Range
Fifth Doctor
Adric, Nyssa, Tegan
Nyssa, Tegan, Marc
Nyssa
Nyssa, Brewster
Nyssa, Hannah
Nyssa, Tegan
Nyssa, Tegan, Turlough
Tegan, Turlough, Kamelion
Tegan, Leela
Turlough
Peri
Peri, Erimem
Amy
Solo travels
All stories in the main monthly range are included in this navigation box including the "subscriber exclusive" stories which are part of Big Finish Productions' subscription service for this range. All other stories are represented in other navigation boxes.
Community content is available under
CC-BY-SA
unless otherwise noted.