Marc Platt (born 1953[1]) wrote several Doctor Who novels, the TV story Ghost Light and many audio stories for Big Finish Productions.
Platt was "in love" with Doctor Who "from 23 November 1963" and had a "total obsession" with the show. He loved William Hartnell's portrayal of the First Doctor but thought of Patrick Troughton's Second Doctor as his Doctor. In 2014, he said that in the then-recently rediscovered stories The Web of Fear and The Enemy of the World, Troughton was "absolutely wonderful". (DWM 476)
Platt continued to watch the Jon Pertwee and Tom Baker eras of the show by bringing a portable television into work. While he held "slightly less affection" for the Pertwee era than the earlier eras, and thought of Pertwee as "very different", he thought that the show "didn't lose its magic at all". He also "liked early Tom Baker very much". He felt that a few seasons prior to him joining as a writer, the show had been "down to the depths" and "aimless and [...] suffered from shallowness", but thought that after Andrew Cartmel joined as script editor, "it was well on the mend" and that Cartmel "had the vision to put it back on track". (DWM 476)
Platt wasn't a fan of the 21st century series' 45-minute format. He believed that after the show returned in 2005, "it had a lot of potential but the stories were too short. They had a lot more two-parters back then, but they seem to have been abandoned in favour of story arcs across the season, which become too convoluted and tangled." He thought that the modern producers and writers "[s]ometimes [... got] it right, but mostly they're just desperately piling so much stuff in" and that the show was "Doctor Who-light" and "too fast and superficial sometimes". Nonetheless, Platt did enjoy some of the individual modern stories. He "really liked" The Impossible Planet and The Satan Pit for "getting back to the original style", while according to Platt, The Doctor's Wife was "extraordinary", "fresh", "really had some depth" and "was really made with love". (DWM 476)
He also contributed to the charity reference book Behind the Sofa: Celebrity Memories of Doctor Who.
Credits
[
]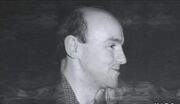 Television
[
]
Doctor Who
[
]
Direct-to-video
[
]
Novels
[
]
Target Novelisations
[
]
Virgin New Adventures
[
]
Virgin Missing Adventures
[
]
Short stories
[
]
Doctor Who Yearbook
[
]
Virgin Decalogs
[
]
Short Trips
[
]
Bernice Summerfield Short Stories
[
]
The Doctor: His Lives and Times

[

]
Extract from London's Greatest Ghosts
The Scientific Secrets of Doctor Who
[
]
Comic strips
[
]
Doctor Who Magazine
[
]
Audio
[
]
Doctor Who Main Range
[
]
Special Releases
[
]
The Lost Stories
[
]
The Fourth Doctor Adventures
[
]
Philip Hinchcliffe Presents
[
]
The Eighth Doctor Adventures
[
]
Doom Coalition
[
]
Third Doctor Adventures
[
]
The First Doctor Adventures
[
]
The Early Adventures
[
]
The Companion Chronicles
[
]
Doctor Who Unbound
[
]
Jago and Litefoot
[
]
Other
[
]
Doctor Who script books
[
]
Footnotes
[
]
External links
[
]