This topic might have a better name.
Disambiguation unnecessary. This is the primary topic, and should remain undabbed.
Talk about it here.

Manchester was a city in the north of England. It was located north-east of Liverpool and south-west of Leeds. (TV: The Lie of the Land)
In August 1819, the Fifth Doctor, Nyssa, and Tegan Jovanka visited Manchester. They were present for the Peterloo Massacre on 16 August of that year. The Doctor described the events as "the darkest day" in Manchester's history. (AUDIO: The Peterloo Massacre)
In 1965, the Sixth Doctor was there with Melanie Bush for a brief, second encounter with the Wishing Beast. (AUDIO: The Vanity Box)
In 1993, the Doctor, Nyssa and Tegan returned to Manchester. (PROSE: Goth Opera)
In 2004, Iris Wildthyme and Panda visited Manchester. (PROSE: The Shape of Things)
During the 2000s, Manchester was one of the main cities affected by the terrorist attacks that claimed the lives of over 1,000 people within the UK. (AUDIO: The Longest Night)
Gwen Cooper caught the train to Manchester Piccadilly in October 2007. (PROSE: Border Princes)
In 2008, there was a Combat 3000 game store in Manchester; at least one child, Jack, went missing after playing the game. (TV: Warriors of Kudlak)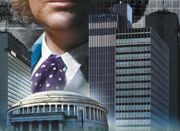 Also in 2008, the Sixth Doctor twice visited the borough with Charley Pollard, on both occasions meeting D.I. Menzies. (AUDIO: The Condemned, The Raincloud Man)
By 2017, Paul Magrs and Jeremy Hoad lived together in Manchester. (PROSE: The Magrs Conundrum!)
There was a suite called the Manchester Suite aboard Platform One. (TV: The End of the World)
Behind the scenes
Edit
Community content is available under
CC-BY-SA
unless otherwise noted.