Making Manhattan was the episode of Doctor Who Confidential broadcast in conjunction with Evolution of the Daleks.
A condensed 5 minute version of this episode was made available to download in .mp4 format for seven days after broadcast, as part of a BBC trial of video podcasts.[1] It was later uploaded to the BBC's YouTube channel. Both of these were cropped into 4:3 aspect ratio.
Aspects of production covered
[
edit
|
edit source
]
The challenge of transforming Welsh locations into New York.
How the SFX team shot background plates and wide shots to be inserted amongst the other material for the episode (including combining footage of Freema and David in Wales with footage of the Statue of Liberty).
The setdressing for Hooverville.
The addition of 1930s buildings to certain shots in the VFX stage of working on the episode.
The use of a disused power station for the Dalek lab scenes.
The multi-camera setup for the Pig Slaves fighting the Hooverville citizens.
The SFX work for the Dalek attack on Hooverville, and the challenges of doing it with a limited amount of explosives.
Filming supporting artists on greenscreen for some of the construction work shots.
The set for Mr. Diagoras' office.
Shooting shots in studio for the mast of the Empire State building.
How weather posed a challenge for shooting some of the sequences in this story.
"I Love New York" by Madonna, Album: Confessions on a Dancefloor[2]
"Proper Education" by Eric Prydz vs Pink Floyd, Album: Proper Education (Single)
"Fanfare for the Common Man" by Detroit Symphony Orchestra/Dorati, Album: Copland: El Salon Mexico
"Manhattan" by Ella Fitzgerald, Album: Ella Fitzgerald: The Songbooks
"Mostly the Charleston" by The Roaring 20's, Album: USA
"Down In Harlem" by The Roaring 20's, Album: USA
"Touch The Sky" by Kanye West, Album: Late Registration
"Don't Rain On My Parade" by Barbara Streisand, Album: Barbara Streisand's Greatest Hits
"Bang Bang You're Dead" by Dirty Pretty Things, Album: The Anthems
"We Are The World" by The Solitaire Orchestra, Album: Precious Moments
"Song For Clay (Disappear Here)" by Bloc Party, Album: A Weekend In The City
"Wall Street Rag" by Pat Ribellot, Album: New York - A Documentary Film Directed by Ric Burns
"In Da Club" by 50 Cent, Album: 50 Cent - In Da Club
"Sweet Suzy" by The Champagne Dance Orchestra, Album: The Top 1920's and 1930's
Elements retained in Cut Down

[

edit

|

edit source

]
to be added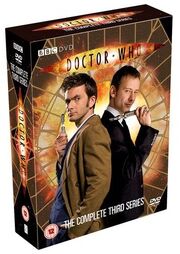 The "Cut Down" version of this episode was included on the Doctor Who: The Complete Third Series DVD box set released on 5 November 2007.
Community content is available under
CC-BY-SA
unless otherwise noted.