Jurassic World: Dominion Dominates Fandom Wikis - The Loop
Play Sound

The Main Range, also known as The Monthly Adventures[note 1] and the Monthly Range, was a Doctor Who audio series produced by Big Finish Productions. It was their earliest range to make use of the Doctor Who license, and remained their only consistent output until 2021, when the series ended.
The series began in 1999 with The Sirens of Time, a multi-Doctor story featuring the Fifth, Sixth, and Seventh Doctors. It also featured the Eighth Doctor from Storm Warning in 2001 until 2012, when he moved to his own series of audios, The Eighth Doctor Adventures.
Stories in this range were typically narratively independent from each other, though sometimes Big Finish made stories part of trilogies, larger story arcs, or tie-ins to their other ranges, like Dalek Empire and Cyberman. One example of such a set was 1963, a trilogy of stories set in the year 1963 and released in 2013 to celebrate Doctor Who's 50th anniversary.
The Main Range included stories with all of the Doctors' television companions, including Adric, Nyssa, Tegan, Turlough, Kamelion, Peri Brown, Melanie Bush, and Ace, as well as their companions from non-televised media, such as Frobisher, Maxwell Edison, and Izzy Sinclair from Doctor Who Magazine comic stories, Bernice Summerfield from Virgin Books' New Adventures novels, and Fitz Kreiner of BBC Books' Eighth Doctor Adventures. Many other characters from the television series, including several companions of non-featured Doctors, also appeared in various stories, in particular during the "Locum Doctors" trilogy, which paired featured Doctors with First, Second and Third Doctor companions.
Big Finish also created a number of original companions for the Main Range. These included Thomas Brewster, Marcipor, Erimem, Evelyn Smythe, Flip Jackson, Constance Clarke, Bev Tarrant, Hex, Elizabeth Klein, Liv Chenka, Sally Morgan, Lysandra Aristedes, Will Arrowsmith, C'rizz, and Mary Shelley. Some of these characters received their own audio spinoffs: Charlotte Pollard, which featured Charlotte Pollard, having parted ways with the Eighth Doctor, Graceless, which featured Abby and Zara, and Vienna, which featured Vienna Salvatori.
The series ended in 2021 with the 275th release, The End of the Beginning, a multi-Doctor adventure which saw the return of the Eighth Doctor, who had branched off into his own series almost a decade earlier, alongside his first and most enduring companion from the Main Range, Charlotte Pollard. This story was very much in the tone of their earliest releases, but featured returning characters from more recent adventures, such as Calypso Jonze, to celebrate this range's long history.
After The Monthly Adventures, several plot lines were continued in each Doctor's respective ranges. For example, Marc's continued travels with the Fifth Doctor, and the conclusion to his story, were released as part of The Fifth Doctor Adventures.
Branding
[
]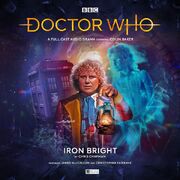 From The Sirens of Time to The Lure of the Nomad, all releases used the 1996 variation of the Doctor Who logo. Starting with Iron Bright, the series' 239th release, the version of the logo introduced in 2018 started being used. This marked the first instance of Big Finish using the "current" Doctor Who logo since the show's revival in 2005. It was also applied to all their other ranges, including past releases in many cases.
Stories
[
]
#
Title
Author
Doctor
Featuring
Released
1
The Sirens of Time
Nicholas Briggs
5th, 6th, 7th
Time Lords
19 July 1999
2
Phantasmagoria
Mark Gatiss
5th
Turlough
4 October 1999
3
Whispers of Terror
Justin Richards
6th
Peri
November 1999
4
The Land of the Dead
Stephen Cole
5th
Nyssa
January 2000
5
The Fearmonger
Jonathan Blum
7th
Ace
4 February 2000
6
The Marian Conspiracy
Jacqueline Rayner
6th
Evelyn
12 March 2000
7
The Genocide Machine
(Dalek Empire part one)
Mike Tucker
7th
Ace, Bev, Daleks
April 2000
8
Red Dawn
Justin Richards
5th
Peri, Ice Warriors
4 May 2000
9
The Spectre of Lanyon Moor
Nicholas Pegg
6th
Evelyn, the Brigadier
June 2000
10
Winter for the Adept
Andrew Cartmel
5th
Nyssa
July 2000
11
The Apocalypse Element
(Dalek Empire part two)
Stephen Cole
6th
Evelyn, Romana II, Time Lords, Daleks
7 August 2000
12
The Fires of Vulcan
Steve Lyons
7th
Mel
18 September 2000
13
The Shadow of the Scourge
(Side Step)
Paul Cornell
Ace, Bernice
October 2000
14
The Holy Terror
(Side Step)
Robert Shearman
6th
Frobisher
November 2000
15
The Mutant Phase
(Dalek Empire part three)
Nicholas Briggs
5th
Nyssa, Thals, Daleks
18 December 2000
16
Storm Warning
Alan Barnes
8th
Charley
22 January 2001
17
Sword of Orion
Nicholas Briggs
Charley, Cybermen
26 February 2001
18
The Stones of Venice
Paul Magrs
Charley
19 March 2001
19
Minuet in Hell
Alan W. Lear and Gary Russell
Charley, the Brigadier
23 April 2001
20
Loups-Garoux
Marc Platt
5th
Turlough
21 May 2001
21
Dust Breeding
Mike Tucker
7th
Ace, Bev, The Decayed Master
18 June 2001
22
Bloodtide
Jonathan Morris
6th
Evelyn, Silurians
23 July 2001
23
Project: Twilight
Cavan Scott and Mark Wright
Evelyn, Nimrod, the Forge
20 August 2001
24
The Eye of the Scorpion
Iain McLaughlin
5th
Peri, Erimem
17 September 2001
25
Colditz
Steve Lyons
7th
Ace, Klein
22 October 2001
26
Primeval
Lance Parkin
5th
Nyssa, Trakenites
23 November 2001
27
The One Doctor
Gareth Roberts and Clayton Hickman
6th
Mel
17 December 2001
28
Invaders from Mars
Mark Gatiss
8th
Charley
28 January 2002
29
The Chimes of Midnight
Robert Shearman
25 February 2002
30
Seasons of Fear
Paul Cornell and Caroline Symcox
Charley, Nimon
25 March 2002
31
Embrace the Darkness
Nicholas Briggs
Charley
29 April 2002
32
The Time of the Daleks
(Dalek Empire part four)
Justin Richards
Charley, Daleks
21 May 2002
33
Neverland
Alan Barnes
Charley, Romana II, Rassilon, Time Lords
June 2002
34
Spare Parts
Marc Platt
5th
Nyssa, Cybermen
31 July 2002
35
...ish
Phil Pascoe
6th
Peri
29 August 2002
36
The Rapture
Joseph Lidster
7th
Ace
26 September 2002
37
The Sandman
Simon A. Forward
6th
Evelyn, the Galyari
24 October 2002
38
The Church and the Crown
Cavan Scott and Mark Wright
5th
Peri, Erimem
28 November 2002
39
Bang-Bang-a-Boom!
Gareth Roberts and Clayton Hickman
7th
Mel
19 December 2002
40
Jubilee
Robert Shearman
6th
Evelyn, Daleks
January 2003
41
Nekromanteia
Austen Atkinson
5th
Peri, Erimem
February 2003
42
The Dark Flame
(Side Step)
Trevor Baxendale
7th
Ace, Bernice
28 March 2003
43
Doctor Who and the Pirates
Jacqueline Rayner
6th
Evelyn
April 2003
44
Creatures of Beauty
Nicholas Briggs
5th
Nyssa
May 2003
45
Project: Lazarus
Cavan Scott and Mark Wright
6th, 7th
Evelyn, Nimrod, the Forge
23 June 2003
46
Flip-Flop
Jonathan Morris
7th
Mel
July 2003
47
Omega
(Classic Villains Trilogy part one)
Nev Fountain
5th
Omega
27 August 2003
48
Davros
(Classic Villains Trilogy part two)
Lance Parkin
6th
Davros
19 September 2003
49
Master
(Classic Villains Trilogy part three)
Joseph Lidster
7th
The Master, Death
31 October 2003
50
Zagreus
Gary Russell and Alan Barnes
5th, 6th, 7th, 8th
Charley, Romana II, Leela, K9, Rassilon, Brax
21 November 2003
51
The Wormery
Stephen Cole and Paul Magrs
6th
Iris Wildthyme, Seventh Doctor
November 2003
52
Scherzo
Robert Shearman
8th
Charley
14 December 2003
53
The Creed of the Kromon
Philip Martin
Charley, C'rizz, Kro'ka
20 January 2004
54
The Natural History of Fear
Jim Mortimore
Charley, C'rizz
February 2004
55
The Twilight Kingdom
Will Shindler
Charley, C'rizz, Kro'ka
11 March 2004
56
The Axis of Insanity
Simon Furman
5th
Peri, Erimem
April 2004
57
Arrangements for War
Paul Sutton
6th
Evelyn, Rossiter
May 2004
58
The Harvest
Dan Abnett
7th
Ace, Hex, Cybermen
26 June 2004
59
The Roof of the World
Adrian Rigelsford
5th
Peri, Erimem, Great Old Ones
July 2004
60
Medicinal Purposes
Robert Ross
6th
Evelyn, Knox
August 2004
61
Faith Stealer
Graham Duff
8th
Charley, C'rizz, Kro'ka
September 2004
62
The Last
Gary Hopkins
18 October 2004
63
Caerdroia
Lloyd Rose
10 November 2004
64
The Next Life
Alan Barnes and Gary Russell
Charley, C'rizz, Rassilon, Kro'ka
December 2004
65
The Juggernauts
Scott Alan Woodard
6th
Mel, Daleks, Davros, Mechanoids
15 January 2005
66
The Game
Darin Henry
5th
Nyssa
February 2005
67
Dreamtime
Simon A. Forward
7th
Ace, Hex, the Galyari
March 2005
68
Catch-1782
Alison Lawson
6th
Mel
April 2005
69
Three's a Crowd
Colin Brake
5th
Peri, Erimem
May 2005
70
Unregenerate!
David A. McIntee
7th
Mel, Time Lords
June 2005
71
The Council of Nicaea
Caroline Symcox
5th
Peri, Erimem
July 2005
72
Terror Firma
Joseph Lidster
8th
Charley, C'rizz, Daleks, Davros
August 2005
73
Thicker Than Water
Paul Sutton
6th
Mel, Evelyn, Rossiter, Seventh Doctor
25 September 2005
74
LIVE 34
James Parsons and Andrew Stirling-Brown
7th
Ace, Hex
75
Scaredy Cat
Will Shindler
8th
Charley, C'rizz
October 2005
76
Singularity
James Swallow
5th
Turlough
November 2005
77
Other Lives
Gary Hopkins
8th
Charley, C'rizz
13 December 2005
78
Pier Pressure
Robert Ross
6th
Evelyn, Indo
11 January 2006
79
Night Thoughts
Edward Young
7th
Ace, Hex
February 2006
80
Time Works
Steve Lyons
8th
Charley, C'rizz
15 March 2006
81
The Kingmaker
Nev Fountain
5th
Peri, Erimem, Fourth Doctor
April 2006
82
The Settling
Simon Guerrier
7th
Ace, Hex
May 2006
83
Something Inside
Trevor Baxendale
8th
Charley, C'rizz
June 2006
84
The Nowhere Place
Nicholas Briggs
6th
Evelyn
July 2006
85
Red
Stewart Sheargold
7th
Mel
28 August 2006
86
The Reaping
Joseph Lidster
6th
Peri, Cybermen
18 September 2006
87
The Gathering
5th
Tegan, Cybermen, the Forge
88
Memory Lane
Eddie Robson
8th
Charley, C'rizz
October 2006
89
No Man's Land
Martin Day
7th
Ace, Hex, the Forge
November 2006
90
Year of the Pig
Matthew Sweet
6th
Peri
18 December 2006
91
Circular Time
5th
Nyssa
20 January 2007
Spring
Mike Maddox and Paul Cornell
Summer
Autumn
Paul Cornell
Winter
Nyssa, Kamelion
92
Nocturne
Dan Abnett
7th
Ace, Hex
February 2007
93
Renaissance of the Daleks
Christopher H. Bidmead
5th
Nyssa, Daleks
March 2007
94
I.D.
Eddie Robson
6th
April 2007
Urgent Calls
95
Exotron
Paul Sutton
5th
Peri
May 2007
Urban Myths
96
Valhalla
Marc Platt
7th
June 2007
97
The Wishing Beast
Paul Magrs
6th
Mel
July 2007
The Vanity Box
98
Frozen Time
Nicholas Briggs
7th
Ice Warriors
August 2007
99
Son of the Dragon
Steve Lyons
5th
Peri, Erimem
6 September 2007
100
100
6th
Evelyn
26 September 2007
100 BC
Jacqueline Rayner
My Own Private Wolfgang
Robert Shearman
Bedtime Story
Joseph Lidster
The 100 Days of the Doctor
Paul Cornell
101
Absolution
Scott Alan Woodard
8th
Charley, C'rizz
October 2007
102
The Mind's Eye
Colin Brake
5th
Peri, Erimem
9 November 2007
Mission of the Viyrans
Nicholas Briggs
Peri, Viyrans
103
The Girl Who Never Was
Alan Barnes
8th
Charley, Cybermen
3 December 2007
104
The Bride of Peladon
Barnaby Edwards
5th
Peri, Erimem, Peladonians, Ice Warriors
January 2008
105
The Condemned
Eddie Robson
6th
Charley, DI Menzies
February 2008
106
The Dark Husband
David Quantick
7th
Ace, Hex
March 2008
107
The Haunting of Thomas Brewster
Jonathan Morris
5th
Nyssa, Brewster
30 April 2008
108
Assassin in the Limelight
Robert Ross
6th
Evelyn, Knox, Indo
May 2008
109
The Death Collectors
Stewart Sheargold
7th
Dar Traders
June 2008
Spider's Shadow
Nicholas Briggs
110
The Boy That Time Forgot
Paul Magrs
5th
Nyssa, Adric
30 July 2008
111
The Doomwood Curse
Jacqueline Rayner
6th
Charley
August 2008
112
Kingdom of Silver
James Swallow
7th
Cybermen
15 September 2008
Keepsake
113
Time Reef
Marc Platt
5th
Nyssa, Brewster
September 2008
A Perfect World
Jonathan Morris
114
Brotherhood of the Daleks
Alan Barnes
6th
Charley, Thals, Daleks
October 2008
115
Forty-Five
7th
Ace, Hex
November 2008
False Gods
Mark Morris
Order of Simplicity
Nick Scovell
Casualties of War
Mark Michalowski
Ace, Hex, the Forge
The Word Lord
Steven Hall
Ace, Hex, Nobody No-One
116
The Raincloud Man
Eddie Robson
6th
Charley, DI Menzies
11 December 2008
117
The Judgement of Isskar
(

The Key 2 Time

part one)
Simon Guerrier
5th
Amy, Zara, Ice Warriors
22 January 2009
118
The Destroyer of Delights
(The Key 2 Time part two)
Jonathan Clements
Amy, Black Guardian, White Guardian
14 February 2009
119
The Chaos Pool
(The Key 2 Time part three)
Peter Anghelides
Amy, Zara, Romana II, Black Guardian, White Guardian
March 2009
120
The Magic Mousetrap
Matthew Sweet
7th
Ace, Hex, Celestial Toymaker
April 2009
121
Enemy of the Daleks
David Bishop
Ace, Hex, Daleks
May 2009
122
The Angel of Scutari
Paul Sutton
Ace, Hex
June 2009
123
The Company of Friends
8th
28 July 2009
Benny's Story
Lance Parkin
Bernice
Fitz's Story
Stephen Cole
Fitz
Izzy's Story
Alan Barnes
Izzy
Mary's Story
Jonathan Morris
Mary Shelley
124
Patient Zero
Nicholas Briggs
6th
Charley, Daleks, Viyrans
22 August 2009
125
Paper Cuts
Marc Platt
Mila, Draconians
25 September 2009
126
Blue Forgotten Planet
Nicholas Briggs
Mila, Charley, Viyrans
127
Castle of Fear
Alan Barnes
5th
Nyssa, Rutans
16 October 2009
128
The Eternal Summer
Jonathan Morris
Nyssa, Maxwell Edison
11 November 2009
129
Plague of the Daleks
Mark Morris
Nyssa, Daleks
8 December 2009
130
A Thousand Tiny Wings
Andy Lane
7th
Klein
21 January 2010
131
Klein's Story
John Ainsworth and Lee Mansfield
18 February 2010
Survival of the Fittest
Jonathan Clements
132
The Architects of History
Steve Lyons
Klein, Selachians
10 March 2010
133
City of Spires
Simon Bovey
6th
"Jamie"
30 April 2010
134
The Wreck of the Titan
Barnaby Edwards
31 May 2010
135
Legend of the Cybermen
Mike Maddox
"Jamie", Zoe, Cybermen
30 June 2010
136
Cobwebs
Jonathan Morris
5th
Nyssa, Tegan, Turlough
15 July 2010
137
The Whispering Forest
Stephen Cole
13 August 2010
138
The Cradle of the Snake
Marc Platt
Nyssa, Tegan, Turlough, Mara
13 September 2010
139
Project: Destiny
Cavan Scott and Mark Wright
7th
Ace, Hex, Nimrod, the Forge
140
A Death in the Family
Steven Hall
Ace, Hex, Evelyn, Nobody No-One, the Forge
13 October 2010
141
Lurkers at Sunlight's Edge
Marty Ross
Ace, Hex
15 November 2010
142
The Demons of Red Lodge and Other Stories
5th
Nyssa
15 December 2010
The Demons of Red Lodge
Jason Arnopp
The Entropy Composition
Rick Briggs
Doing Time
William Gallagher
Special Features
John Dorney
143
The Crimes of Thomas Brewster
Jonathan Morris
6th
Evelyn, Brewster, Flip, DI Menzies
January 2011
144
The Feast of Axos
Mike Maddox
Evelyn, Brewster, Axons
February 2011
145
Industrial Evolution
Eddie Robson
Evelyn, Brewster

March 2011

146
Heroes of Sontar
Alan Barnes
5th
Nyssa, Tegan, Turlough, Sontarans
14 April 2011
147
Kiss of Death
Stephen Cole
Nyssa, Tegan, Turlough
19 May 2011
148
Rat Trap
Tony Lee
June 2011
149
Robophobia
Nicholas Briggs
7th
Liv, Kaldor androids
15 July 2011
150
Recorded Time and Other Stories
6th
Peri
9 August 2011
Recorded Time
Catherine Harvey
Paradoxicide
Richard Dinnick
A Most Excellent Match
Matt Fitton
Question Marks
Philip Lawrence
151
The Doomsday Quatrain
Emma Beeby and Gordon Rennie
7th
13 September 2011
152
House of Blue Fire
Mark Morris
Sally
153
The Silver Turk
Marc Platt
8th
Mary Shelley, Cybermen
15 October 2011
154
The Witch from the Well
Rick Briggs
Mary Shelley
8 November 2011
155
Army of Death
Jason Arnopp
12 December 2011
156
The Curse of Davros
Jonathan Morris
6th
Flip, Davros, Daleks
January 2012
157
The Fourth Wall
John Dorney
Flip
10 February 2012
158
Wirrn Isle
William Gallagher
Flip, Wirrn
March 2012
159
The Emerald Tiger
Barnaby Edwards
5th
Nyssa, Tegan, Turlough
17 April 2012
160
The Jupiter Conjunction
Eddie Robson
May 2012
161
The Butcher of Brisbane
Marc Platt
Nyssa, Tegan, Turlough, Magnus Greel, Mr Sin
June 2012
162
Protect and Survive
Jonathan Morris
7th
Ace, Hex
23 July 2012
163
Black and White
Matt Fitton
Ace, Hex, Sally, Lysandra, Garundel, the Forge
16 August 2012
164
Gods and Monsters
Mike Maddox and Alan Barnes
Ace, Hex, Sally, Lysandra, Fenric, the Forge
19 September 2012
165
The Burning Prince
John Dorney
5th
Kylo Sorsha
166
The Acheron Pulse
Rick Briggs
6th
25 October 2012
167
The Shadow Heart
Jonathan Morris
7th
Kylo Sorsha, Vienna
10 November 2012
168
1001 Nights
5th
Nyssa
12 December 2012
1001 Nights
Emma Beeby and Gordon Rennie
My Brother's Keeper
The Interplanetarian
Jonathan Barnes
Smuggling Tales
Catherine Harvey
169
The Wrong Doctors
Matt Fitton
6th
Mel
14 January 2013
170
Spaceport Fear
William Gallagher
11 February 2013
171
The Seeds of War
Matt Fitton and Nicholas Briggs
Mel, the Eminence, Infinite warriors
7 March 2013
172
Eldrad Must Die!
Marc Platt
5th
Nyssa, Tegan, Turlough, Eldrad
10 April 2013
173
The Lady of Mercia
Paul Magrs
Nyssa, Tegan, Turlough
8 May 2013
174
Prisoners of Fate
Jonathan Morris
11 June 2013
175
Persuasion
Jonathan Barnes
7th
Klein, Will
10 July 2013
176
Starlight Robbery
Matt Fitton
Klein, Will, Sontarans, Garundel
August 2013
177
Daleks Among Us
Alan Barnes
Klein, Will, Davros, Daleks
11 September 2013
178
1963: Fanfare for the Common Men
Eddie Robson
5th
Nyssa
179
1963: The Space Race
Jonathan Morris
6th
Peri
29 October 2013
180
1963: The Assassination Games
John Dorney
7th
Ace, Counter-Measures
15 November 2013
181
Afterlife
Matt Fitton
Ace, Hex, Sally
17 December 2013
182
Antidote to Oblivion
Philip Martin
6th
Flip, Sil
14 January 2014
183
The Brood of Erys
Andrew Smith
Flip
14 February 2014
184
Scavenger
William Gallagher
14 March 2014
185
Moonflesh
Mark Morris
5th
Nyssa, Hannah
11 April 2014
186
Tomb Ship
Gordon Rennie and Emma Beeby
14 May 2014
187
Masquerade
Stephen Cole
18 June 2014
188
Breaking Bubbles and Other Stories
6th
Peri
11 July 2014
Breaking Bubbles
Lizbeth Myles
Of Chaos Time The
Mark Ravenhill
An Eye For Murder
Una McCormack
The Curious Incident of the Doctor in the Night-Time
Nev Fountain
189
Revenge of the Swarm
Jonathan Morris
7th
Ace, Hector
15 August 2014
190
Mask of Tragedy
James Goss
12 September 2014
191
Signs and Wonders
Matt Fitton
Ace, Hector, Sally
192
The Widow's Assassin
Nev Fountain
6th
Peri
31 October 2014
193
Masters of Earth
Mark Wright and Cavan Scott
Peri, Daleks
11 November 2014
194
The Rani Elite
Justin Richards
Peri, Second Rani
17 December 2014
195
Mistfall
Andrew Smith
5th
Nyssa, Tegan, Turlough, Marshmen
14 January 2015
196
Equilibrium
Matt Fitton
Nyssa, Tegan, Turlough
12 February 2015
197
The Entropy Plague
Jonathan Morris
12 March 2015
198
The Defectors
Nicholas Briggs
7th
Jo, Yates, the Forge
15 April 2015
199
Last of the Cybermen
Alan Barnes
6th
Jamie, Zoe, Cybermen
20 May 2015
200
The Secret History
Eddie Robson
5th
Steven, Vicki, the Monk
17 June 2015
201
We Are The Daleks
Jonathan Morris
7th
Mel, Daleks
9 July 2015
202
The Warehouse
Mike Tucker
Mel
12 August 2015
203
Terror of the Sontarans
John Dorney and Dan Starkey
Mel, Sontarans
14 September 2015
204
Criss-Cross
Matt Fitton
6th
Constance
15 September 2015
205
Planet of the Rani
Marc Platt
Constance, Second Rani
14 October

2015

206
Shield of the Jötunn
Ian Edginton
Constance
16 November 2015
207
You Are the Doctor and Other Stories
7th
Ace
16 December 2015
You Are the Doctor
John Dorney
Come Die With Me
Jamie Anderson
The Grand Betelgeuse Hotel
Christopher Cooper
Dead to the World
Matthew Elliott
208
The Waters of Amsterdam
Jonathan Morris
5th
Tegan, Nyssa
11 January 2016
209
Aquitaine
Simon Barnard and Paul Morris
17 February 2016
210
The Peterloo Massacre
Paul Magrs
15 March 2016
211
And You Will Obey Me
(Two Masters Trilogy part one)
Alan Barnes
5th
The Master
12 April 2016
212
Vampire of the Mind
(Two Masters Trilogy part two)
Justin Richards
6th
9 May 2016
213
The Two Masters
(Two Masters Trilogy part three)
John Dorney
7th
The Old Master, The New Master
13 June 2016
214
A Life of Crime
Matt Fitton
Ace, Mel
12 July 2016
215
Fiesta of the Damned
Guy Adams
9 August 2016
216
Maker of Demons
Matthew Elliott
13 September 2016
217
The Memory Bank and Other Stories
5th
Turlough
12 October 2016
The Memory Bank
Chris Chapman
The Last Fairy Tale
Paul Magrs
Repeat Offender
Eddie Robson
The Becoming
Ian Potter
218
Order of the Daleks
Mike Tucker
6th
Constance, Daleks
9 November 2016
219
Absolute Power
Jamie Anderson
Constance
13 December 2016
220
Quicksilver
Matt Fitton
Constance, Flip
221
The Star Men
Andrew Smith
5th
Adric, Nyssa, Tegan
10 January 2017
222
The Contingency Club
Phil Mulryne
14 February 2017
223
Zaltys
Matthew Elliott
21 March 2017
224
Alien Heart
Stephen Cole
Nyssa, Daleks
19 April 2017
Dalek Soul
Guy Adams
225
Vortex Ice
Jonathan Morris
6th
Flip
16 May 2017
Cortex Fire
Ian Potter
226
Shadow Planet
AK Benedict
7th
Ace, Hex
13 June 2017
World Apart
Scott Handcock
227
The High Price of Parking
John Dorney
Ace, Mel
11 July 2017
228
The Blood Furnace
Eddie Robson
15 August 2017
229
The Silurian Candidate
Matthew Elliott
Ace, Mel, Silurians
12 September 2017
230
Time in Office
Eddie Robson
5th
Tegan, Leela, Time Lords
231
The Behemoth
Marc Platt
6th
Constance, Flip
11 October 2017
232
The Middle
Chris Chapman
15 November 2017
233
Static
Jonathan Morris
12 December 2017
234
Kingdom of Lies
Robert Khan and Tom Salinsky
5th
Adric, Nyssa, Tegan
17 January 2018
235
Ghost Walk
James Goss
13 February 2018
236
Serpent in the Silver Mask
David Llewellyn
20 March 2018
237
The Helliax Rift
Scott Handcock
Daniel Hopkins, UNIT
17 April 2018
238
The Lure of the Nomad
Matthew Elliott
6th
Mathew
15 May 2018
239
Iron Bright
Chris Chapman
Isambard Kingdom Brunel
19 June 2018
240
Hour of the Cybermen
Andrew Smith
Daniel Hopkins, UNIT, Cybermen
12 July 2018
241
Red Planets
Una McCormack
7th
Ace, Mel
14 August 2018
242
The Dispossessed
Mark Morris
11 September 2018
243
The Quantum Possibility Engine
Guy Adams
16 October 2018
244
Warlock's Cross
Steve Lyons
Elizabeth Klein, Daniel Hopkins, UNIT
13 November 2018
245
Muse of Fire
Paul Magrs
Ace, Hex, Iris Wildthyme, Panda
11 December 2018
246
The Hunting Ground
AK Benedict
6th
247
Devil in the Mist
Cavan Scott
5th
Turlough, Tegan, Kamelion
15 January 2019
248
Black Thursday
Jamie Anderson
12 February 2019
Power Game
Eddie Robson
249
The Kamelion Empire
Jonathan Morris
12 March 2019
250
The Monsters of Gokroth
Matt Fitton
7th
Mags
17 April 2019
251
The Moons of Vulpana
Emma Reeves
7 May 2019
252
An Alien Werewolf in London
Alan Barnes
Mags, Ace
11 June 2019
253
Memories of a Tyrant
Roland Moore
6th
Peri
11 July 2019
254
Emissary of the Daleks
Andrew Smith
Peri, Daleks
14 August 2019
255
Harry Houdini's War
Steve Lyons
Peri, Houdini
17 September 2019
256
Tartarus
David Llewellyn
5th
Nyssa, Tegan, Marc
257
Interstitial
Carl Rowens
15 October 2019
Feast of Fear
Martyn Waites
258
Warzone
Chris Chapman
12 November 2019
Conversion
Guy Adams
Nyssa, Tegan, Marc, Cybermen
259
Blood on Santa's Claw and Other Stories
6th
Peri, Joe
10 December 2019
Blood on Santa's Claw
Alan Terigo
The Baby Awakes
Susan Dennom
I Wish It Could Be Christmas Every Day
Andrew Lias
Brightly Shone The Moon That Night
Nev Fountain
260
Dark Universe
Guy Adams
7th
Ace, the Eleven, Ollistra, Rasmus
21 January 2020
261
The Psychic Circus
Stephen Wyatt
Chief clown, Kingpin, The Master, Morgana, Gods of Ragnarok
11 February 2020
262
Subterfuge
Helen Goldwyn
Churchill, The Monk
17 March 2020
263
Cry of the Vultriss
Darren Jones
6th
Flip, Constance, Ice Warriors
15 April 2020
264
Scorched Earth
Chris Chapman
Flip, Constance
13 May 2020
265
The Lovecraft Invasion
Robert Valentine
Flip, Constance, Calypso Jonze, H. P. Lovecraft
30 July 2020
266
Time Apart
5th
31 July 2020
Ghost Station
Steve Lyons
The Bridge Master
Jacqueline Rayner
What Lurks Down Under
Tommy Donbavand
The Dancing Plague
Kate Thorman
267
Thin Time
Dan Abnett
Eleventh Doctor
12 August 2020
Madquake
Guy Adams
Nyssa, Tegan, Marc, Slitheen
268
The Flying Dutchman
Gemma Arrowsmith
7th
Ace, Hex
8 September 2020
Displaced
Katharine Armitage
269
Shadow of the Daleks 1
5th
Daleks
13 October 2020
Aimed at the Body
James Kettle
Lightspeed
Jonathan Morris
The Bookshop at the End of the World
Simon Guerrier
Interlude
Dan Starkey
Daleks
270
Shadow of the Daleks 2
10 November 2020
Echo Chamber
Jonathan Barnes
Towards Zero
Roland Moore
Castle Hydra
Lizzie Hopley
Effect and Cause
John Dorney
Daleks
271
Plight of the Pimpernel
Chris Chapman
6th
Peri
8 December 2020
272
The Grey Man of the Mountain
Lizbeth Myles
7th
Ace, the Brigadier
273
Colony of Fear
Roland Moore
6th
Constance
19 January 2021
274
The Blazing Hour
James Kettle
5th
Turlough
9 February 2021
275
The End of the Beginning
Robert Valentine
5th, 6th, 7th, 8th
Turlough, Constance, Charley, Calypso Jonze
16 March 2021
Stories by year
[
]
External links
[
]
Main Range
Fifth Doctor
Adric, Nyssa, Tegan
Nyssa
Nyssa, Brewster
Nyssa, Hannah
Nyssa, Tegan
Nyssa, Tegan, Marc
Nyssa, Tegan, Turlough
Tegan, Turlough, Kamelion
Tegan, Leela
Turlough
Peri
Peri, Erimem
Amy
Solo travels
All stories in the main monthly range are included in this navigation box including the "subscriber exclusive" stories which are part of Big Finish Productions' subscription service for this range. All other stories are represented in other navigation boxes.
Big Finish Doctor Who series and spin-offs
Classic Series

New Series

Series that have never starred the Doctor are excluded from this list

.
Time War
"New Series"
Adventures

The Worlds
of Doctor Who

Torchwood

The Worlds
of Big Finish

Special Releases

These DWU characters have never been owned by the BBC.
Footnotes
[
]
↑ The Main Range was re-branded near the end of its production history. All previous releases are now available on the Big Finish website under The Monthly Adventures, the new brand for this range from the late 2010s. Indeed, from 2021 onwards, this would no longer be "the main range" for Big Finish.