Lords and Masters (also known as The End of Time, Part One Confidential on the DVD) was the episode of Doctor Who Confidential broadcast in conjunction with part one of The End of Time.
Aspects of production covered
[
edit
|
edit source
]
The decision to bring back the Time Lords for this story.
The logistics of faking a helicopter shot in this story without a real helicopter.
John Simm on returning as the Master.
Redoing the Master's look for this story, to fit with the character's attempts to blend in.
June Whitfield on her brief appearance in the story.
Discussions on the Vinvocci and the prosthetics used for them.
The VFX work required to pull John Simm's face on so many people.
Filming of the White House press room sequence, in which John Simm had to wear over thirty outfits so all the shots could be knitted into one.
David Tennant's feelings on ending his time in the role of the Doctor.
Discussion of how a helicopter shot in Aliens of London had been carefully done without the use of a real helicopter.
The history of the Master's rivalry with the Doctor in the classic series.
How Wilfred Mott had never originally be intended as a part of Donna's family.
The history of the Doctor's relationship with Time Lord society.
A Next time on Doctor Who Confidential... trailer for the following episode.
"Uprising" by Muse (also used in DCOM: Eyes Wide Open)
"Boom Boom Pow" by The Black Eyed Peas
"Countdown" by Rush
"You Know I'm No Good" by Amy Winehouse
"Cold As Ice" by M.O.P. (also used in DCOM: Arthurian Legend)
"Never Forget You" by The Noisettes
"Terry & June Theme" by John Shakespeare
"American Woman" by The Guess Who†
"Blue Haze" by Paul Mottram, Album: Small Jazz Group, Piano, Boogie ANW 1157
"Shake It" by Metro Station
"Mr Big Stuff" by Jean Knight (also used in DCOM: 'Ello, 'Ello, 'Ello)
"Walk to Death" by Duncan Pittock, Album: Drones, Textures, Musical FX ANW 1038 (also used in DCOM: Death in Venice)
†TV version only, replaced with stock music ("Duetto" by Chris Gibbons, Album: Easy Listening Country ANW 1239) for the DVD release.
Elements retained in Cut Down

[

edit

|

edit source

]
There was no "Cut Down" version of this episode.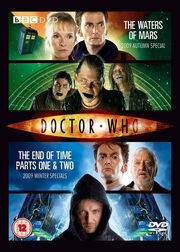 The full length version of the episode was included on the Doctor Who: 2009 Winter Specials DVD & Blu-ray box set released on 11 January 2010; and the Doctor Who: The Complete Specials DVD & Blu-ray box set also released on 11 January 2010.
Community content is available under
CC-BY-SA
unless otherwise noted.