Long Time Dead was the seventeenth release in the BBC Torchwood Novels series and served as a prequel to The New World, as well as a direct sequel to the events of Children of Earth.
Publisher's summary
[
]
Cardiff Bay. The government has ordered the excavation of the wreckage of a secret underground base. DCI Tom Cutler is watching from a distance, fascinated by the process. There are people in his dreams. People he feels he should know.
The disbanded Torchwood Institute spent a century accumulating non-terrestrial artefacts and catching aliens. Who knows what – or who – might still be intact down there. But by the time they find the first body, Suzie Costello is long gone.
Plot
[
]
to be added
Characters
[
]
Torchwood
[
]
Police
[
]
Government
[
]
References
[
]
Notes
[
]
This book is also available as an ebook from the Amazon Kindle store.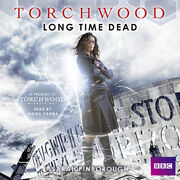 Continuity
[
]
Audio release
[
]
The story was released as an audiobook on download only from the AudioGo website read by Indira Varma.
External links
[
]