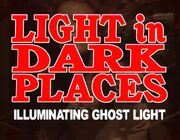 Light in Dark Places was a 2004 BBC documentary on the making on the Doctor Who serial Ghost Light. It is comprised of interviews with the cast.
Doctor Who Classic Series DVD documentaries
For the purposes of this list, a "DVD documentary" is one made especially for the Classic Series DVD range. For this reason, things like studio recordings, film trims/inserts and other documentaries featured on DVD releases are not included below.
See also: Title cards • DVD special features • Easter eggs
Community content is available under
CC-BY-SA
unless otherwise noted.