Doctor Strange in The Multiverse o Madness - The Loop
Play Sound
Legend of the Cybermen was the one hundred and thirty-fifth story in Big Finish's monthly range. It was written by Mike Maddox and featured Colin Baker as the Sixth Doctor, Frazer Hines as "Jamie" and Wendy Padbury as Zoe Heriot
It featured the first joint appearance of Frazer Hines and Wendy Padbury since TV: The Five Doctors in 1983 and the first appearance of Zoe in a full cast audio drama.
Publisher's summary
[
]
The Cybermen are on the march through the Hundred Realms, killing and converting as they go. Resistance is useless.
Trapped on the outermost fringes of the battle, the Doctor and Jamie McCrimmon are astonished to encounter an old friend: astrophysicist Zoe Heriot.
It's the happiest of reunions. But what hope is there of a happy ending against the unstoppable Cybermen?
Plot
[
]
to be added
Cast
[
]
Uncredited cast
[
]
Credits
[
]
References
[
]
Cultural references from the real world
[
]
The Doctor
[
]
Individuals
[
]
Species
[
]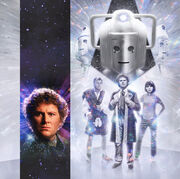 Notes
[
]
This story cleverly breaks the fourth wall several times, most notably a cameo by Nicholas Briggs (playing himself) and Zoe describing the Doctor's adventures as being "targeted at children, but loved by adults".
Many musical cues appear to take inspiration from classic adventure and horror movies.
This story marks the first appearance of the Land of Fiction in an audio drama.
All of the preexisting mythological or literary characters and creatures featured in this story are in the public domain.
One of the fictional adventures that Zoe created for the Doctor is entitled Doctor Who and the Laird of McCrimmon. This is a reference to an unproduced Season 6 serial which would have been written by Mervyn Haisman and Henry Lincoln. The storyline would have involved a possessed Jamie piloting the TARDIS to Scotland in 1746, specifically his ancestral home, Castle McCrimmon. Once there, he finds the current laird, Sir James McCrimmon, on his deathbed. Robot Yeti appear and surround the castle where the local villagers fall under the influence of the Great Intelligence. The only person who seems to be immune is a girl named Fiona, with whom Jamie falls in love. The Great Intelligence wants to inhabit Jamie's body and become the laird once Sir James dies. However, the Great Intelligence is ultimately defeated by the Doctor. Jamie decides to leave the TARDIS and become the laird himself. A candidate for Frazer Hines' departure story, it was abandoned in August 1968.[1]
This audio drama was recorded on 19 and 20 October 2009 at The Moat Studios.
Subscribers whose subscription included this story also received the audio short story The Switching.
The closing theme for part four is a combination of the 2nd Delia Derbyshire theme and the Dominic Glynn theme.
This story was released on CD and download. It is now available as a download only.
Continuity
[
]
External links
[
]
Footnotes
[
]
Main Range
Fifth Doctor
Adric, Nyssa, Tegan
Nyssa
Nyssa, Brewster
Nyssa, Hannah
Nyssa, Tegan
Nyssa, Tegan, Marc
Nyssa, Tegan, Turlough
Tegan, Turlough, Kamelion
Tegan, Leela
Turlough
Peri
Peri, Erimem
Amy
Solo travels
All stories in the main monthly range are included in this navigation box including the "subscriber exclusive" stories which are part of Big Finish Productions' subscription service for this range. All other stories are represented in other navigation boxes.