Karen Sheila Gillan (born 28 November 1987[1][2] in Inverness, Scotland) played the Soothsayer in the Doctor Who television story The Fires of Pompeii and Amy Pond between series 5 and 7 of Doctor Who. She was the first companion actress since Billie Piper to appear as a regular in two consecutive seasons and the first since Sophie Aldred to appear with the same Doctor for more than one season.
Biography
[
]
Early life
[
]
Gillan was born and raised in Inverness, Scotland. Her father, Raymond John, a day centre manager, and mother, Marie, lived in Kinmylies. She attended school at Charleston Academy, formally known as Inverness High School. When she was sixteen, Karen decided to pursue her acting career. She studied acting at Edinburgh's Telford College. Later, she secured a place at the Italia Conti Academy of Theatre Arts drama school in London on the BA (Hons) Acting degree course.
Career
[
]
Before Doctor Who

[

]
Gillan gained her first television role in Rebus while still studying at Italia Conti, and has since had parts in The Kevin Bishop Show, Channel 4's Stacked and James Nesbitt's forthcoming film Outcast. On The Kevin Bishop Show, Gillan played several roles in skits, including one in which she parodied both Angelina Jolie and Jolie's interpretation of video game heroine Lara Croft. She has also lampooned Julia Roberts' role in Pretty Woman and pop singer Katy Perry.
Standing 5'10, Gillan is the tallest actress to be cast in the companion role. When not acting, she has taken advantage of her height to take on occasional modelling roles, including 2007 London Fashion Week for designer Allegra Hicks' autumn/winter catwalk show.
The Well

[

]
Gillan also starred in the BBC's interactive digital thriller The Well in 2009 as Coll with Jo Woodcock, (Beth) Issac Ssebandeke, (Ivan) and Greg Foreman (Luis).
Doctor Who

[

]
In 2008, Gillan had her first direct involvement with the Doctor Who franchise when she portrayed the Soothsayer in the series 4 episode The Fires of Pompeii.
Following the departure of Catherine Tate from the series and the announcement that David Tennant was leaving the programme in 2009, speculation ran rampant as to who might play the Eleventh Doctor's companion. This speculation increased when young actor Matt Smith was cast as the Doctor.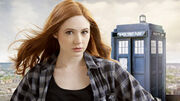 Gillan's casting as companion Amy Pond was announced on 29 May 2009 by the BBC. Writer and executive producer Steven Moffat described her as being "funny, and clever, and gorgeous, and sexy".[3] No further details of her character were released and, in fact, for several weeks only a first name was known until the BBC later indicated the character's last name.
She is one of only a handful of actors to return to televised Doctor Who in an ongoing role after having previously appeared in a guest role. Others have included Colin Baker, Peter Purves, Jean Marsh, Nicholas Courtney, Ian Marter, Lalla Ward, Freema Agyeman, and Peter Capaldi (plus David Tennant, who provided voice acting for Big Finish Productions audio dramas).
Gillan shares some similarities with her predecessor, Catherine Tate. Aside from both being redheads, Gillan is also known for her comedy impersonations and had appeared on comedy TV series before joining the cast of Doctor Who.
Gillan is not the only member of her family appearing on Doctor Who as her nine-year-old cousin, Caitlin Blackwood, portrayed Amy Pond as a child in The Eleventh Hour, The Big Bang, and Let's Kill Hitler. Gillan and Blackwood had never met before Doctor Who; Blackwood grew up in Ireland and Gillan in Scotland. They first met at the first readthrough of series 5.
Gillan left Doctor Who along with her co-star Arthur Darvill at the end of the series 7 episode The Angels Take Manhattan, although the last episode she filmed was The Power of Three. She stated that she wanted Amy's departure to be "final", thereby ruling out a return appearance.
However, this turned out to be wrong as she did briefly return for a cameo in the 2013 Christmas special The Time of the Doctor to say goodbye to her co-star Matt Smith.
After Doctor Who

[

]
Gillan's next big role was in Marvel's Guardians of the Galaxy, released in 2014, playing Nebula. This required her to shave her hair off, causing a dramatic moment at the 2013 San Diego Comic-Con when she removed her wig to reveal her bald head.[4] She has since played Nebula in the direct sequel to 2017's Guardians of the Galaxy Vol. 2 and two other Marvel films, Avengers: Infinity War and Avengers: Endgame in 2018 and 2019 respectively.
In 2014, she starred in a pilot for American network ABC called Selfie, a modernised version of the George Bernard Shaw play Pygmalion.[5] The series premiered on 30 September 2014, but was cancelled on 7 November of that year after only part of the season had been broadcast. The remaining episodes were made available on VOD services.
Beginning in 2017, she starred as ruby Roundhouse in both sequels to Jumanji, titled Jumanji: Welcome to the Jungle and 2019's Jumanji: The Next Level, alongside Jack Black, Dwayne Johnson, and Kevin Hart.
Credits
[
]
Television
[
]
Doctor Who
[
]
Mini-episodes
[
]
Other
[
]
Video Games
[
]
The Adventure Games
[
]
Console
[
]
External links
[
]
Footnotes
[
]