Jurassic World: Dominion Dominates Fandom Wikis - The Loop
Play Sound

Jon Pertwee (born 7 July 1919 in London, died 20 May 1996 in Connecticut[1]) played the Third Doctor from 1970 to 1974, beginning from Spearhead from Space to Planet of the Spiders.
He returned to the role in the 20th anniversary special The Five Doctors, the Children in Need special Dimensions in Time and the BBC Radio stories The Paradise of Death and The Ghosts of N-Space.
Outside of Doctor Who, he was well-known for three major roles. His longest-running role — lasting from 1959 to 1977 — was that of the conniving CPO Pertwee in the popular radio series, The Navy Lark. He was also the host of the ITV murder mystery quiz programme Whodunnit? from his final year as the Doctor until 1978. His next — and last — major role was that of Worzel Gummidge in the ITV series of the same name.
Despite his serious take on the Doctor, Pertwee was mainly a comic actor. Not only did he enjoy a reputation for funny voices on radio — he had regular roles in World War II-era comedies Waterlogged Spa and Up the Pole that preceded The Navy Lark —  but he generally played lighter roles on stage and screen. He was, for instance, "Lycus" in the 1963 London stage production of A Funny Thing Happened on the Way to the Forum and "Crassus" in the 1966 film. Like his Doctor Who predecessor, William Hartnell, he was also found significant employment in the Carry On franchise, appearing in three films during the 1960s: Carry On Cleo, Carry On Screaming!, and Carry On Cowboy. Indeed, he helped end that franchise by appearing in the very last Carry On film in 1992.
He was also a minor recording artist, trading on his fame in his two most popular franchises. In 1972 he released a vocal version of the programme's celebrated theme tune entitled "Who is the Doctor",[2] and in 1980 released a novelty track based on Worzel Gummidge entitled "Worzel's Song".[3]
Before Doctor Who

[

]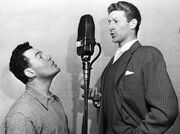 Pertwee was an officer in the Royal Navy, working in naval intelligence during the Second World War. He was a crew member of HMS Hood and was transferred off the ship shortly before it was sunk, losing all but three men. Pertwee enrolled in RADA, but was expelled for, as he put it, "lack of seriousness." He was married twice, first to Jean Marsh (1955-1960), whom he divorced, and then, on 13 August 1960, to Ingeborg Rhoesha by whom he had two children, Sean and Dariel. He was the cousin of actor Bill Pertwee (a regular in Dad's Army).
As the Doctor
[
]
As he did not really know who he was outside of comedic roles, Pertwee also insisted that despite his reputation as a comic actor, he wanted to play the Doctor more seriously and heroically, as a man of action — and a technologically-oriented one at that. These details of his approach helped him to appreciate his own true personality.
Pertwee was vocal about the Doctor being given what he termed "moments of charm", small dialogue sequences with other characters where there was no plot exposition, but mutual character development. Often these sequences would consist of the Doctor dispensing advice or instilling courage.
Pertwee discussed his decision to leave Doctor Who in 1974 on several occasions, such as the PBS documentary Doctor Who's Who's Who and the Myth Makers video series. He cited two catalysts in his decision: the departure of Barry Letts as series producer and the 1973 death of close friend Roger Delgado, who had played the Master.
Why that fancy-pants get-up?
[
]
By Pertwee's own account, he conceived the first outfit that the Third Doctor wore as a joke. Retrieving an old velvet smoking jacket, ruffled shirt, and opera cape from storage, he decided that it was the most ridiculous outfit he had ever seen, most of all that he had ever worn. He wore it to an appointment at the producer's office. Far from laughing him out of that office, the production team loved the idea. From that day, elaborate, dandy-esque clothes became a crucial part of the Third Doctor's character. It's worth noting, however, that a 2013 interview with costume designer, Christine Rawlins, was at variance with Pertwee's recollection.[4]
Details of the Third Doctor's outfits
[
]
As the Third Doctor, Pertwee frequently wore velvet smoking coats in various solid colours, usually with colour-co-ordinated trousers, as "dinner suits." With these dinner suits, he wore frilled shirts in lighter colours, some of which had darker-coloured contrast trim on their frills. These frilled shirts also tended to have bow ties knotted, frequently in artist's style, around the closed shirt collars; their solid colours were often identical to, or darker than, the dominant solid colours of the smoking coats.
Sometimes the Third Doctor would wear an Inverness cape over his outfits. The very first time he did so, in Spearhead from Space, the story with which Pertwee actually began his tenure in the role, his Inverness cape was black in colour, its lining was bright red in colour, and he had "borrowed" (read: stolen) it, and indeed all the other articles of his clothes, from the hospital from which he had escaped. (The Third Doctor obtained duplicates of all of those for himself from UNIT after he had returned the originals to their rightful owners.) Sometimes, his Inverness cape would be lined in blue, purple, or violet colours, or its outer shell would have some sort of colour pattern, usually an obvious plaid in such cases. Some of the Third Doctor's Inverness capes, when he wore them, would have only cape-like sleeves, as did the very first one he ever wore; others would have full capelettes that would be distinct from the main "frock" of the Inverness.
In toto, the Third Doctor's outfits were typical of the dapper, technologically-oriented man of action as Pertwee played him, and who Pertwee came to realise that he himself was outside of his comedic characters.
Later years
[
]
Outside acting, Pertwee was an avid sportsman. He was especially fond of water-skiing. A favourite ring of his, which became his trademark, was retrieved from a shipwreck whilst he was scuba diving, which had a coin mounted on.
The coin that you see on it shows Athene, the owl goddess of wisdom. A roman sailor came across this coin - obviously somebody from Greece had come to Rome and used this coin - and he thought, "That's nice, I'm going to have it made into a ring," and then he took it to sea with him, and kept in in a little pot. In about 1958 I was diving and found this wreck, pulled up all the amphora - we also found the stock of the anchor, so we were able to see what the boat was. and date it to about 55AD from the insignia on the side - and in one of the pots I found this ring, from the poor bloody sailor who had obviously drowned. I gave it to a man called Silver Douglas, a jeweller, who did it up for me to make it fit my little finger and it's been there ever since - you can probably see in on a lot of the Doctor Who photos.Jon Pertwee
Pertwee would continue to act in films and television and make appearances worldwide in support of Doctor Who. Eventually, he became more aggressive in boosting projects that he favoured. Early success in persuading Doctor Who actors such as Patrick Troughton to appear as guests at American science fiction conventions inspired Pertwee to lobby for a radio version of the series after it was put on hiatus. Additionally, in the 1980s he vigorously canvassed British producers on behalf of Worzel Gummidge.
Ultimately, Pertwee was successful in seeing the Third Doctor return to the airwaves with two audio productions for BBC Radio, The Paradise of Death and The Ghosts of N-Space. Worzel Gummidge was picked up for production by a New Zealand TV company which produced two series of Worzel Gummidge Down Under (1987 & 1989). Near the end of his life, Pertwee also appeared in several semi-professional independent productions by BBV Productions; although his was not the role of the Doctor, he did play a doctor in The Zero Imperative, the premiere release of the P.R.O.B.E. series which starred Pertwee's former Doctor Who co-star Caroline John, who reprised her role of Liz Shaw. He also made a cameo appearance in the BBV-produced film The Airzone Solution. Whilst it was unrelated to Doctor Who, it featured appearances by, at the time of production, all the surviving actors who had played incarnations of the Doctor except Tom Baker.
Death
[
]
Pertwee continued on the convention circuit and with his voice and television acting until his death; he died in his sleep at the age of 76 from a heart attack whilst on holiday in the American state of Connecticut on 20 May 1996. (Some reports place the location of his death in New York.) He died only days after the American broadcast of the Doctor Who television movie, which had used, in its opening credits, a logo based on the one from his era of the television series. The BBC broadcast of the television movie featured a dedication to Pertwee at its conclusion.
He was cremated at Putley Vale Crematorium. He had a Worzel Gummidge model affixed to his coffin, following the instructions on his will.
Just before his death, Pertwee played the Doctor for a Vodafone advertisement, in which he narrowly avoids being caught in Liverpool by an American government agent (played by Kyle MacLachlan). Pertwee's last television appearance was 21 April 1996: Surprise Surprise, where he (as the Doctor) met young Who fan David Petter and presented him with a real Dalek.
The latest known surviving footage of Jon Pertwee before his death was filmed during his final trip to the Isle of Wight on 2 May 1996, merely 18 days before his heart attack. Pertwee had travelled there to visit the Medina Theatre in Newport during the tour of his one-man show. While he stayed at the Isle of Wight, a few local fans were given the chance to meet him. The footage of their meeting was recorded on a video cassette and exists online under the name, "Jon Pertwee's last visit to the Isle of Wight 2 May 1996". It was made available by an individual using the pseudonym 20mbPodcast.
His last association with the series was posthumous. With the approval of his widow, Ingeborg, his voice was used as part of the plot of the Big Finish Productions 40th-Anniversary Doctor Who audio drama, Zagreus. Pertwee's voice was culled from the fan-produced Doctor Who film Devious[5], portions of which were recorded prior to his death; he filmed his scenes for the production in April 1995. Although the production was not authorised or commissioned by the BBC, a 12-minute excerpt from the still-unfinished Devious was nonetheless included as a bonus feature on the BBC Video 2009 DVD release of The War Games. He was a lifelong fan of cartoons and a self-proclaimed expert in animation.
His godson, Adam James, appeared in Planet of the Dead.
In an interview conducted for 30 Years in the TARDIS, Jon Pertwee cited the Draconians as his favourite Doctor Who monsters. The costumes allowed the actors playing them to express themselves more fully than a Dalek or Cyberman.
Credits
[
]
Television
[
]
Doctor Who

[

]
Mini-episodes
[
]
Direct-to-video
[
]
P.R.O.B.E.
[
]
Audio dramas
[
]
BBC Audio Doctor Who

[

]
Big Finish Doctor Who audio stories

[

]
Audiobooks
[
]
Documentary
[
]
Other
[
]
External links
[
]
Footnotes
[
]