Spider-Man: No Way Home Trailer Dropped - The Loop
Play Sound

John Levene (born John Anthony Woods on 24 December 1941[1] in Salisbury, Wiltshire, England) played Sergeant John Benton of UNIT on Doctor Who, beginning with The Invasion and concluding with The Android Invasion.
Levene was working in a men's clothing store on Regent Street in London when he met Telly Savalas, who encouraged him to sign up as an extra for The Dirty Dozen. However, Levene found himself unable to take part in the film as he was not a member of the British actors' union Equity, but despite this setback he became interested in acting. On joining Equity, he discovered there was already a John Woods registered and so adopted the professional name John Levene.
His first acting role was in the television series Adam Adamant Lives! (1966-67). Other television roles included episodes of Callan (1970), UFO (1970), The Adventurer (1972) and the film Go For A Take (1972). He also played a police constable in the horror film Psychomania (1971).
He made an uncredited appearance as a Cyberman in the 1967 Doctor Who serial The Moonbase (DWM 322) and as a Yeti in The Web of Fear before making his debut as then-Corporal Benton in the Doctor Who serial The Invasion in 1968. Levene had initially signed up to play a Cyberman in The Invasion, but landed the role of Benton after the actor originally chosen for the part was fired by director Douglas Camfield for continually turning up late for filming, causing the schedules to be changed.
The Web of Fear was, incidentally, the serial that introduced Benton's commanding officer, Brigadier Lethbridge-Stewart. Lethbridge-Stewart and UNIT were featured heavily in early 1970s Doctor Who and the promoted Sergeant Benton also became a regular. Levene also played a parallel universe version of Benton in Inferno.
The character of Benton was later promoted to Warrant Officer in Robot, thus entitling him to be addressed as "Mister", but he is usually referred to as "Sergeant" by fans.
Benton's last regular Doctor Who appearance was in The Android Invasion, in which Levene played both the real Benton and his android duplicate. Levene did not enjoy this story, as he missed the presence of Nicholas Courtney, who was committed to a theatre tour and unable to return, and also knew UNIT was being phased out of the series. The Android Invasion also appeared to show the death of Benton, although this was never the intention at the time, when the android Benton ordered the removal of his body. Thankfully, fans learned Benton was alive and well when it was mentioned by the retired Brigadier in Mawdryn Undead that Benton had left the Army in 1979 and was working as a second-hand car salesman.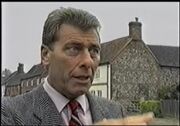 In 1977, following his final appearance on Doctor Who, he gave up acting as a career to set up his own audiovisual company, Genesis Communications. He has directed well over forty-five audio visuals and live events for clients including the Ford Motor Company, British Airways, Kentucky Fried Chicken, Amway and Revlon.
He briefly returned to the role of Benton in the 1987 Reeltime Pictures video production Wartime. He also appeared as himself in the Doctor Who documentaries Chronotrip (2001) and Myth Runner, and also along with former co-stars Jon Pertwee, Nicholas Courtney, and Richard Franklin for the Reeltime documentary Return to Devil's End, about the making of the classic story, The Dæmons.
Levene has also worked as an entertainer on cruise liners and has emigrated to the USA, where he has returned to acting under the name John Anthony Blake ("Blake" being his mother's maiden name), having successfully managed to obtain the vital Green Card enabling him to work there.
He is married and is the father of two adult children from his previous marriage. His latest acting work was on an independent movie called Cannibalistic. He has also acted on an episode of Big Bad Beetleborgs, industrial videos, and has done some voice-over work for Disney and The Queen Mary Hotel, among others.
Credits
[
]
Television
[
]
Doctor Who

[

]
Direct-to-video
[
]
Stage
[
]
Audio
[
]
The Third Doctor Adventures
[
]
Companion Chronicles
[
]
UNIT: The New Series
[
]
Documentary
[
]
Myth Makers: Tom Baker
Chronotrip
Other
[
]
External links
[
]
Footnotes
[
]