Jurassic World: Dominion Dominates Fandom Wikis - The Loop
Play Sound

John Barrowman, MBE (born 11 March 1967[1]) appeared as Captain Jack Harkness, beginning in the television story The Empty Child in 2005, leaving the series after the series 1 finale, The Parting of the Ways. Barrowman subsequently portrayed Captain Jack in a spin-off series, Torchwood, which premièred in October 2006. Barrowman has continued to appear as Captain Jack in several episodes of Doctor Who from 2007 to 2010 as well as a surprise cameo in the 2020 story Fugitive of the Judoon. He has also appeared in a number of audio dramas produced for BBC Radio, and in the Big Finish Torchwood series. Barrowman also narrated the BBC Website feature Monster Files (in character) until Matt Smith took over David Tennant's role as the Doctor, after which Alex Kingston began narrating them.
In 2009, he wrote the Torchwood Magazine comic story The Selkie with his sister, Carole, followed by the novel Exodus Code in 2012 and the Torchwood comic series beginning in 2016.
Biography
[
]
Early life
[
]
Barrowman was raised in Joliet, Illinois, and graduated from Joliet West High School in 1985. He is the son of a plant manager of the former Caterpillar Inc. tractor factory in Joliet. While still a high school freshman, he won parts in several musical productions. Between 1983 and 1985, he performed in productions of Hello, Dolly!, Oliver!, Camelot, L'il Abner and Anything Goes. He attended university in San Diego before returning to the United Kingdom in 1989.
He holds a dual United Kingdom/United States passport, which enables him to work on both sides of the Atlantic.
John has said he would return to Doctor Who "at the drop of a hat" if he ever got the invitation. Nearly a decade later, he did receive an invitation from Chris Chibnall, who wanted him back on the show as Captain Jack Harkness in Series 12.
Career
[
]
Stage
[
]
He has appeared in several West End musicals including Anything Goes, Miss Saigon, Beauty and the Beast, Matador, Hair, Grease! and The Phantom of the Opera. He has also appeared in the West End in non-musical dramas, such as Rope and the 2005 production of A Few Good Men (opposite Hollywood actor Rob Lowe). Most recently he starred in Cinderella at the New Wimbledon Theatre for the 2005-6 Christmas season.
He has played the role of Joe Gillis in Sunset Boulevard in the West End and, briefly, on Broadway. His only other Broadway credit is the Stephen Sondheim revue Putting It Together (1999–2000).
TV
[
]
Barrowman appeared in the first run of the BBC Children's variety show Live & Kicking in 1993-1994, co-hosting the show with Andi Peters and Emma Forbes, before moving on to The Movie Game, a television game show. Live & Kicking saw Barrowman interviewing numerous science fiction alumni, including William Shatner and visiting the sets of SF productions such as Gerry Anderson's Space Precinct, as well as doing reports on video games.
Barrowman is probably best known in the United States for starring roles in several short-lived prime-time soap operas such as Titans and Central Park West.
Outside of Doctor Who and Torchwood, Barrowman has become ubiquitous on UK television, hosting everything from morning chat shows to musical retrospectives and lending his talents to charity events such as Children in Need (he introduced the broadcast of Time Crash in 2007). He also conducted one of David Tennant's first television interviews after being named the new Doctor (more than a year before Barrowman found himself returning to Doctor Who opposite Tennant). In the summer of 2008, Barrowman served as one of the judges for both the UK BBC and Canadian CBC editions of the talent competition series, How Do You Solve a Problem Like Maria?, which saw the actor commuting transcontinentally.
In 2009, Barrowman hosted another talent series, Tonight's the Night, which culminated in a viewer winning a chance to appear opposite Barrowman (playing Jack once again) in a specially written Doctor Who skit. Tonight's the Night returned for a second season later in 2010.
In 2010, John appeared in Desperate Housewives as Patrick Logan, where he featured in 6 episodes. Barrowman also reprised the role of Captain Jack for a cameo in The End of Time, Part Two. A self-confessed Glee fan ("Gleek"), he was forced to turn down a guest spot on the series due to his Torchwood commitments.
From 2012 onwards, he has had a recurring role as Malcolm Merlyn in Arrow. In 2013 John signed a contract with the producers of Arrow making Malcolm Merlyn a permanent fixture in the series and thus John becoming part of the main cast.
In 2013, he played himself in Peter Davison's 50th Anniversary sketch The Five(ish) Doctors Reboot.
In 2018, he voiced the character of Flex Dexter in that year's Fireman Sam special, Fireman Sam: Set for Action!
In November 2018, he was announced as part of the line-up for the eighteenth season of I'm a Celebrity...Get Me Out of Here! where he placed 3rd.
Film
[
]
Barrowman's musical abilities have been featured in film: he had a duet with Kevin Kline in the Cole Porter biopic De-Lovely, and he can be seen singing "Springtime for Hitler" in the film of Mel Brooks' The Producers, based on the Broadway adaptation of the original movie. He has also appeared in the low-budget cult film Shark Attack 3: Megalodon.
Barrowman also portrays a version of himself in the comedy The Five(ish) Doctors Reboot. While trying to get Barrowman to help their campaign to be included in The Day of the Doctor, within the narrative Peter Davison, Colin Baker and Sylvester McCoy discover that despite his openly gay persona he is actually married to a woman, with two children (David Tennant and Georgia Moffett's daughter Olive portraying the toddler). Barrowman promises help on the condition they keep the discovery a secret.
Misconduct allegations
[
]
Barrowman has been accused of indecently exposing himself on multiple occasions with, prior to 2015, at least one instance being recounted by Freema Agyeman, in 2008, as taking place on the set of Doctor Who.[2] Barrowman's alleged actions were common enough knowledge that it was referenced in the webcast The Ballad of Russell and Julie, a skit that Barrowman himself appeared in. In the webcast, David Tennant, playing Russell T Davies, recounts that he is having a hard time forgetting Barrowman "getting his [genitalia] out" while working on Doctor Who.
At a science fiction convention in 2015, Noel Clarke, whilst reminiscing on filming Boom Town, similarly alleged that Barrowman exposed himself on set. A video recording of this incident later resurfaced in April 2021 following accusations of sexual harrasment against Clarke himself, bringing renewed attention to the accusations against Barrowman. On 7 May 2021, Barrowman issued a statement admitting to engaging in "tomfoolery" and apologising for his actions.[3]
In response to the accusations, Big Finish Productions removed the planned Torchwood audio story Absent Friends from its release schedule, with an unspecified Big Finish spokeperson confirming, "We have no plans to publish this title at this time."[4] A Titan Publishing Group graphic novel, called the Doctor Who 2021 Event, that would have tied into TV: War of the Sontarans and featured Jack was also cancelled.[5]
Personal life
[
]
Barrowman, who is openly gay, has been with his partner, British architect Scott Gill, since 1994. Despite this long-standing relationship, Barrowman told The Herald of Glasgow that he had no plans to marry, saying, "Why would I want a 'marriage' from a belief system that hates me?". Gill and he became civil partners, but as Barrowman explained when the couple were interviewed by Attitude magazine, they do not want to call this a marriage. "We're just going to sign the civil register. We're not going to have any ceremony because I'm not a supporter of the word marriage for a gay partnership."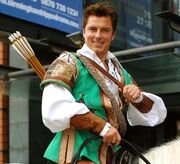 Despite this, he and Gill did end up getting married on 2 July 2013.[6]
Barrowman, who is often disarmingly open about his private life, has to date published two volumes of memoirs, both written in conjunction with his sister, Carole E. Barrowman: Anything Goes (2008) and I Am What I Am (2009); in the latter, Barrowman covers his years working on Doctor Who and Torchwood.
Barrowman is an avid Doctor Who fan beyond his work on the series, and this has been made evident in several DVD featurettes. In the Series 1 Doctor Who DVD set it's learned that Barrowman once received a radio-controlled Dalek for his birthday, and, in the Series 3 set, he and fellow Who fan David Tennant mention that Barrowman's dog was named Tegan (after former companion Tegan Jovanka). The blooper reel for Series 2 of Torchwood reveals that he has the Doctor Who theme as his ringtone when his mobile phone rings during filming. Barrowman has stated his willingness to return to Torchwood and Doctor Who, and has made it very clear he would return in a heartbeat, and that all the producers would need to do is ask.
Barrowman has also recorded several musical CDs which have been released internationally, as well as narrating audio book readings of Anything Goes and several Torchwood novels.
Although he normally speaks in an American accent because of his immigration to the United States as a young child, Barrowman can revert to his original Scottish accent if needed (which he also uses whenever he converses with his relatives).
His family moved to the United States when he was young.
Acting Credits
[
]
Television
[
]
Doctor Who

[

]
Series 1
[
]
Series 3
[
]
Series 4
[
]
Series 12
[
]
New Year's Special
[
]
Torchwood

[

]
Series 1
[
]
Series 2
[
]
Series 3
[
]
Series 4
[
]
As "Himself"
Audio
[
]
Torchwood

[

]
Audio dramas
[
]
Destiny of the Doctor

[

]
Big Finish Torchwood

[

]
Series 1
[
]
Series 2
[
]
Series 4
[
]
Series 5
[
]
Specials
[
]
The Story Continues

[

]
The Lives of Captain Jack

[

]
The Lives of Captain Jack

[

]
The Lives of Captain Jack: Volume Two

[

]
Writing Credits
[
]
Prose
[
]
Comics
[
]
External links
[
]
Footnotes
[
]