Dr Jocelyn Thomas Stevens was the director of the Global Chemicals oil refinery at Llanfairfach.
Stevens had been taken over by BOSS, and tried to stop the Third Doctor and UNIT from shutting down the refinery.
The Doctor used a Metebelis crystal to help Stevens regain control of his mind. Stevens then seemingly sacrificed himself by triggering an explosion which destroyed BOSS and the refinery. (TV: The Green Death)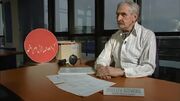 However, it transpired that Stevens and BOSS had survived and their reported deaths had been part of a government coverup. Twenty years later Stevens re-entered public life as Director-General of the BBC.
Stevens remained under the influence of BOSS, who in the years since the Llanfairfach incident had become interested in interactive and digital broadcasting as a means of spreading his influence. (HOMEVID: Global Conspiracy?)
Behind the scenes
Edit
The Minister of Ecology reveals that Stevens's first name is Jocelyn during their telephone conversation. In the novelisation of The Green Death his first name is given as Thomas. It is quite possible one of these is in fact his middle name, meaning both accounts are accurate.
Community content is available under
CC-BY-SA
unless otherwise noted.