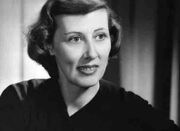 Joanna Spicer was the Assistant Controller of Television Planning for the British Broadcasting Corporation for several years in at least the 1960s. She was always "in the loop" in the discussions surrounding the creation of Doctor Who. Indeed, she was in the room wither her boss Donald Baverstock and her lateral colleague Sydney Newman when the first discussions about how to fill Saturday evening television occurred in March 1963. With Baverstock, she smiled on Newman's initial plans to create a science fiction programme for Saturday afternoons.
As the project took shape over the months that followed, however, she raised a number of objections. She was particularly opposed to Newman's plan to reorganise production at the BBC Drama Group generally, such that Doctor Who be produced by the Serials department, rather than the Children's department. Indeed, after Newman returned to the BBC following a vacation in June 1963, tensions between them rose considerably. He discovered that she had been rubbishing the Serials Department's conduct of pre-production on Doctor Who. They had a blow-up on the phone on 27 June leading to him writing a memo called "Dr. Who Hassle", in which he tried to explain why he has restructured production responsibilities in the Drama Group. It was nevertheless an angry memo which began by stating he was "absolutely flabbergasted" by their earlier phone call and ended with a flat declaration that he didn't need any sort of permission by her office to continue.
Despite this, her influence on Doctor Who remained constant until after the show began broadcast. At one critical point in October, she and John Mair were solicited by Donald Baverstock to thoroughly investigate the actual cost of production, in order to come up with realistic budgets. The two financial planners discovered a lot of discrepancies and questions in the book which raised Baverstock's ire, and even briefly threaten to halt production.
She was also a key player in the fight over which studios would be used to produce Doctor Who. She was largely the reason the show ended up in Lime Grove Studio D — a studio that the production team universally thought was unsuitable to the task. On this point she was challenged by Mair, who argued that they should acquiesce to the production team's desire for allocation of studio space at BBC Television Centre, largely because it would avoid union problems. (REF: The First Doctor Handbook)