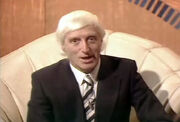 Jim'll Fix It was a long-running BBC television series hosted by Jimmy Savile. Children from the public would write in to the host requesting that he "fix" something for them or make some wish come true.
The Doctor Who mini-episode A Fix with Sontarans featured Colin Baker as the Sixth Doctor came about as a request by a fan named Gareth Jenkins. Gareth had his own child-sized version of the Doctor's costume made for him by his grandmother. (A different Gareth Jenkins works with Big Finish Productions).
Jimmy Savile died in 2011. A year after his death, Savile was exposed as a paedophile, and one of the most prolific sex offenders in British history. Following the revelations involving Savile, all episodes of Jim'll Fix It have been indefinitely withdrawn from public airing, minus footage featured in documentaries involving his crimes, due to them now falling in poor taste. For the same reason, A Fix with Sontarans, which was originally included as an extra on the DVD release of The Two Doctors, has been removed from more recent future pressings by BBC Worldwide as of 2014.
Other connections
Community content is available under
CC-BY-SA
unless otherwise noted.