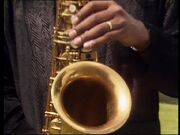 Jazz
was a form of
Earth
music of which
the Doctor
, in at least some of their incarnations, was particularly fond of. The
Seventh Doctor
once called
Courtney Pine
's
saxophone
playing his "favourite kind of jazz: straight-blowing".
Ace
was also enamoured of the performer, saying she could sit and listen to him all afternoon. She even sought his autograph. (
TV
:
Silver Nemesis
) Later, the Seventh Doctor tried to mend fences with
Sarah Jane Smith
over a jazz session at the
Royal Albert Hall
, following
his
abandonment of her after the incident with
Eldrad
. In the end, they didn't make the concert because of an attack by the insectoid
Kalik
species. (
COMIC
:
Train-Flight
)
Once, the Sixth Doctor, Peri and Frobisher found themselves on the planet Zazz, whose inhabitants had based their society on 20th century America, and were thus captivated by jazz. While there, they went to the Kotn Club, and sampled the local nightlife. Frobisher revealed himself to be adept at playing jazz piano. Peri was invited to sing, and became an instant sensation. She claimed to have "sung through Porgy and Bess so many times [she] sound[ed] like Paul Robeson." Indeed, Peri had sung "Summertime", a song particularly associated with Robeson. For his part, the Doctor organised a jazz marching band to play a tune that would lead the scavengers away from the main city, much like the legendary Pied Piper. The Doctor said of his tune, "It's not Count Basie, but I think it'll entertain the scavengers." (COMIC: The Gift)
Though original to Earth, one did not have to be human to appreciate it. The Sittuun who went by the human name, Charlie, had an abiding love of jazz, particularly that performed by Ella Fitzgerald. Charlie appeared not to be a unique case in his species. Some smaller Sittuun space craft were named after 20th century jazz musicians, like Fitzgerald and Charlie Parker. Reminded of Fitzgerald by the Sittuun, the Eleventh Doctor once claimed to have played the recorder while jamming with Fitzgerald. (PROSE: Night of the Humans)
The Twelfth Doctor claimed that the Cybermen were not fond of jazz. He hypothesised that they might have blown up his tape deck at some point, though this might have been Ace instead. (AUDIO: Dead Media)
Ada Obiefune was very fond of jazz. (COMIC: What He Wants...)
The radio station New World FM played jazz music. (HOMEVID: Downtime)
On the Inferno Earth jazz was banned in Great Britain and had to be listened to on illegally imported audio cassettes. Ben Knight enjoyed jazz. (PROSE: I, Alastair).
Community content is available under
CC-BY-SA
unless otherwise noted.