Lady Jane Grey was the Queen of England for nine days from 10 to 19 July 1553. She was a Protestant. (TV: Lost in Time)
At the age of fifteen, Jane Grey was forced into a marriage with Lord Guildford Dudley by her mother. She found her husband an ass. He talked of nothing but himself, failed to compliment her if she wore a new gown and never washed. (TV: Lost in Time)
Jane Grey became queen when aged sixteen as her father in-law wished, but she never wanted to rule. She met Rani Chandra on 19 July 1553, the ninth and final day of Jane's reign. Rani was found by Mistress Ellen, who believed her to be the queen's new lady-in-waiting. Rani played along so she could find the object she had been sent to the past to retrieve. Ellen presented Rani to the Queen, who gave her a music box. Despite the misunderstanding, Jane and the others ironically addressed Rani in the proper fashion; having been created a peeress of a foreign planet, she legitimately held the title, Lady Rani, in her own right, rather than as the courtesy title of a nobleman's daughter which Mistress Ellen and Queen Jane assumed. (TV: Lost in Time) Jane liked Rani because she spoke to her as a girl and not a queen and became friends with her.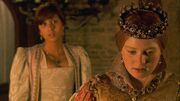 Jane learned that the beautiful Queen Mary had claimed the throne and proclaimed Jane a traitor who would be sentenced to death. Lady Matilda tried to kill Jane that night so she would become a martyr, but Rani stopped her. Rani worked out that the dagger Matilda tried to kill Jane with was the object the Shopkeeper was after. She retrieved it and stayed to comfort Jane before using it to teleport back to 2010. Jane suspected Rani was an angel and this strengthened her.
Before her death, she wrote to her sister Katherine knowing that she had achieved immortality as Rani had told her earlier that she would be remembered for centuries to come. (TV: Lost in Time)
Before her death, Jane helped the First Doctor to defeat an alien entity that had infected the Doctor's companion Barbara Wright. He later witnessed her execution on 12 February 1554 and helped to give her dignity in the end. (PROSE: The Nine-Day Queen) The Sixth Doctor also visited her at around the same time, or may have been recalling his earlier visit in his first incarnation. (AUDIO: The Marian Conspiracy)
In 1985, Barbara wrote a GCSE textbook called Journeys Through History: A Sourcebook for GCSE for the Associated Exam Board with Ian Martin in which Lady Jane's brief reign was covered. (PROSE: The Nine-Day Queen)
She was involved in Missy's plan to befriend several Tudor women in an effort to prevent the reign of James I, who created the charter for St Luke's University, thereby preventing her imprisonment in the Vault. (PROSE: Girl Power!)
Lady Jane Grey has been played by Jane Asher and Sophia Myles in different versions of The Prince and the Pauper and by Louise Brealey in the BBC Radio 4 play The Nine Days Queen.
Community content is available under
CC-BY-SA
unless otherwise noted.