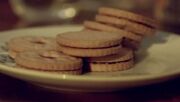 Jammie Dodgers, sometimes Jammy Dodgers, were biscuits filled with jam. The Eleventh Doctor fooled the Daleks into thinking one was a self-destruct button for the TARDIS. When the Daleks discovered his deception, he ate the Jammie Dodger. (TV: Victory of the Daleks)
The Doctor searched his jacket pockets for a Jammie Dodger while on Base Diana, but didn't find one. (PROSE: Apollo 23)
The Doctor once sorted out a dispute between the Pug Ugly gang and the Dead Rabbit gang in New York City in 1829 by settling it over a pack of Jammie Dodgers. (PROSE: The Forgotten Army)
The Doctor once ate or removed all the Jammie Dodgers in a biscuit tin when bringing brothers David and Jack Kershaw together, though the seal on the tin was never broken. (PROSE: Snowfall)
The Doctor asked the Conways if they had any Jammie Dodgers while he, Amy Pond and Rory Williams were on their farm. He stated that he always liked a Jammie Dodger. Sadly, the Conways did not have any. (PROSE: Heart of Stone)
The Doctor asked for twelve Jammie Dodgers and a fez while in the White House. Canton Everett Delaware III did not take kindly to his trivial whims and his request was denied. (TV: The Impossible Astronaut)
While making tea in Alex's flat, the Doctor asked if there were any Jammie Dodgers. (TV: Night Terrors)
The Doctor made Clara a plate of Jammie Dodgers, and took a bite out of one. (TV: The Bells of Saint John)
Amy Pond gave Jammie Dodgers to inhabitants of Verticulus as Halloween treats. (COMIC: Wholloween)
There was an opened packet of Jammy Dodgers on a desk in Black Site. (WC: 14682 UNIT Field Log)
Behind the scenes
Edit
Despite being referred to as one, the biscuit the Eleventh Doctor threatens the Daleks with in Victory of the Daleks is not actually a Jammie Dodger brand biscuit. It more closely resembles a Fox's Biscuits jam ring cream, which looks similar to a Jammie Dodger but contains custard cream filling as well as jam, and a circular hole in the centre instead of the heart-shaped one that a Jammie Dodger features.
Community content is available under
CC-BY-SA
unless otherwise noted.