Wiki Targeted (Entertainment)
Play Sound

In the Heat of the Night was a film starring Sidney Poitier and Rod Steiger. Posters for it appeared in Tube stations during the London Event. (TV: The Web of Fear)
Behind the scenes
[
]
The artwork for In the Heat of the Night is amongst the most recognisable in film history, and the shot of it in episode six is quite clear. There is no doubt that it is a poster for Heat. However, there is a sign over the name of the film on the poster. That name is "Block-Busters".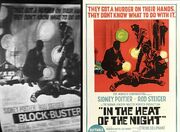 If the phrase were virtually anything else we'd be compelled to say that the name of the film was changed in the DWU. However, since it's a phrase associated with film marketing, we're left with two possible interpretations;
It's the actual name of the film in the DWU. The art department has had to cover up the real name, much as they'd cover the name of a brand of cereal on a table.
Since the art department didn't bother covering anything else on the poster — and especially because they made no effort to put the words "Block-Buster" into the font of the rest of the poster — they weren't actually trying to suggest a different title. Rather they were just adding a local rider to the poster — either saying that the film was being exhibited at a cinema called "Block-Busters" or that Steiger and Poitier were "Block-Busters" or the film had gone "Block-Busters" in its popularity.
Either interpretation is speculation, so our choice is based upon the majority of the evidence on the poster, which clearly tells us that it's In the Heat of the Night.