Stand well clear, Jo!
This article is currently undergoing significant editing. Editors should not use this tag for more than 72 hours. Please do not edit it until you no longer see this message, or until 72 hours have passed from the time this message appeared in the edit history.
Ian Atkins
was Controller of Programme Services for Television at the
British Broadcasting Corporation
in
1963
. He was the person who allocated studio space to various programmes, and therefore was a key player in the fight to move
Doctor Who
from
Lime Grove Studios
to
Television Centre
and
Riverside Studios
. In the dispute, he was firmly on the side of
Rex Tucker
,
Verity Lambert
,
David Whitaker
and
Donald Wilson
. At a meeting on
31st May
1963
, he was minuted by
Ayton Whitaker
as having said that the "old fashioned lighting equipment" at Studio D made it "virtually the worst possible studio for such a project".
He was, however, beholden to his — and virtually everyone else's — boss, Donald Baverstock. He effectively acted as the buffer between Sydney Newman, and all those under him in the drama department, and Baverstock, who was the overall chief of programmes. Baverstock was less inclined to believe it necessary for Doctor Who to get adequate studio space and equipment. Thus, Atkins sometimes had to relay bad news to Newman and Lambert's team, but was nevertheless regularly taking up the production team's case with Baverstock.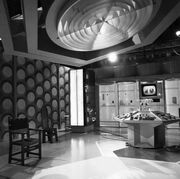 On 1st November 1963, he intervened directly in an important question of design. On that date he held a conference with Raymond Cusick, his direct superior in the design department, and the person who was in charge of seeing that sets got moved in a timely fashion. Atkins gave them all a direct order to do something about the design of the TARDIS interior. As designed by the then-departed Peter Brachacki, it was simply too heavy and too complicated to erect. It was jeopardising the efficiency of the whole scenery department, who were spending entirely too much time on Doctor Who at the expense of other programmes. By the 22nd November, Cusick had redesigned and simplified the TARDIS interior. This redesign was after the recording of "The Dead Planet", meaning that Brachacki's original design should have appeared in the second serial as well as the first. However, thanks to recording errors, "Planet" needed to be re-recorded. This meant that the new "Cusick interior" made its debut in The Mutants — the serial now known as The Daleks. (REF: The First Doctor Handbook)
External link