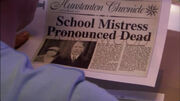 The Hunstanton Chronicle was the local newspaper for Hunstanton. It reported, "School Mistress Pronounced Dead" on 13 March 1911. (TV: From Out of the Rain)
Articles
Edit
13th March 1911
Edit
School Mistress Pronounced Dead
Edit
The Hunstanton Chronicle reported that Lily Mace was pronounced dead on the night of the 12th March 1911 after failing to recover from a mystery illness. The school mistress was taken ill while out walking with her husband, Alfred, and transported by ambulance to the Hunstanton Infirmary, where medical professional were perplexed by her condition. There were no improvements in her condition, and medical staff were forced to pronounce her dead, despite her irregular characteristics.
Police and doctors were left both amused and baffled when Alfred insisted that his dead wife could be brought back to life providing a certain flask could be found, leaving many to question his mental state following the incident.
The death of Lily Mace had been shrouded in mystery following the eccentric declarations of her widowed husband, who at the time of the incident had claimed that her life was being kept in a flask and that police needed to find a "Showman", although those claims were explained as husband's grief.
Consultant Morris Fields of Norwich Royal Hospital said about the claims "Grief can be expressed in a number of ways and Mr Mace is finding it hard to deal with his loss". (TV: From Out of the Rain)
Community content is available under
CC-BY-SA
unless otherwise noted.