Wiki Targeted (Entertainment)
Play Sound
Grandma Connolly was Rita Connolly's mother. In June 1953, Grandma lived with her daughter, her son-in-law Eddie, and her grandson Tommy in a home that she owned. Though she loved her daughter and grandson, she didn't think much of Eddie.
Grandma was dubious about the idea of getting a television set for the house, dismissing television as something which rots your brains "into soup." (TV: The Idiot's Lantern) When the television set Eddie acquired from Magpie Electricals was delivered, however, Grandma was eager to try the device out. Unfortunately as she settled in to watch, the Wire appeared on the screen and stole her face and brain energy as the upcoming broadcast of Queen Elizabeth II's coronation was advertised. (WC: Tardisode 7)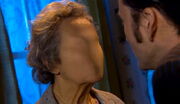 The family hid Grandma away in her room upstairs. Eddie, unbeknownst to his family, reported Grandma to the police, who took her faceless body away and stored it in a lock-up with all the other locals who had suffered a similar fate.
Later, as the Doctor, Tommy, and DI Bishop investigated Magpie Electricals, they saw the stolen faces of all the Wire's victims, including Grandma, silently calling for help on Magpie's television screens.
When the Wire was defeated all its victims' faces and brains returned, and they left the lock-up. Grandma returned home to celebrate the coronation with her family and neighbours. Rita kicked Eddie out of the Connolly home, which was still in Grandma's name. (TV: The Idiot's Lantern)
Grandma Connolly was released as part of the range of Character Options series 2 action figures. The figure includes swappable normal and faceless heads, the Connolly family's television displaying a lenticular image of the Wire which changes to Grandma's stolen face, and the Doctor's portable television.
This character is never referred to as a "Connolly" in the dialogue of the episode, but it is how she was credited at the end of the episode. Nevertheless, she is positively identified as Rita Connolly's mother at least three times within the episode. How she could be a Connolly — when common practice would dictate her surname to be Rita's unspoken maiden name — is not explored by the script. It is possible that Eddie and Rita shared the same surname before they were married. However, the production team's allowance of the name "Connolly" on her Character Options figure, and writer Mark Gatiss' reference to the character as "Grandma Connolly" in the story's Confidential episode, does suggest that the credits were correct and that they intended her name to be "Connolly".
Community content is available under
CC-BY-SA
unless otherwise noted.