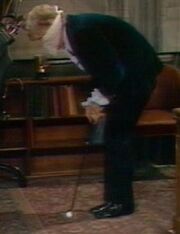 Golf was a human sport played with golf balls and golf clubs. The Third Doctor claimed to be an accomplished golfer. Captain John Hart and George Trenchard were also golfers. (TV: The Sea Devils)
According to a National Portrait Gallery poster in a Coal Hill Academy history classroom, Mary, Queen of Scots was a talented golfer. (TV: The Coach with the Dragon Tattoo)
Trenchard distracted the Doctor and Hart by talking about a golf tournament while the Master stole some parts from the sonar stores within HMS Seaspite.
The Third Doctor putted with a club in Trenchard's office. (TV: The Sea Devils)
The Eighth Doctor once likened the decapitating of a vampire to golf. (PROSE: The Eight Doctors)
A Dogon sixth eye fell out of the sky while Mr Garret was playing golf. He initially confused it for a golf ball. (TV: Random Shoes)
Brian Williams enjoyed playing golf. He even kept golf balls in his pockets. (TV: Dinosaurs on a Spaceship)
Apparently, Clara's Oswald's dad was very boring when he was talking about golf. (TV: Last Christmas)
stated that murdering a Dalek is golf to a Time Lord. (TV: The Witch's Familiar)

Community content is available under
CC-BY-SA
unless otherwise noted.