Ghost Walk was the two hundred and thirty-fifth story in Big Finish's monthly range. It was written by James Goss and featured Peter Davison as the Fifth Doctor, Matthew Waterhouse as Adric, Sarah Sutton as Nyssa and Janet Fielding as Tegan Jovanka.
Publisher's summary
This is a city of ghosts and no-one knows them better than Leanne. Twice a night she leads tourists to visit the most haunted sites - the Hanging Yard, the Witch Pool, the Screaming House, and, of course, the Catacombs.
Leanne's realised the ghosts of the city are real. Something's lurking in the Catacombs - an ancient force that has been growing in the darkness for centuries. Sabaoth is returning and they must be stopped before they devour the world. Leanne knows this, because a ghost told her.
A ghost called The Doctor.
Plot
Part one
to be added
Part two
to be added
Part three
to be added
Part four
to be added
Cast
References
The character Sabaoth derives its name from a Latinised spelling of one of the Hebrew names of God found in the Bible, "Tzeva'ot".
Notes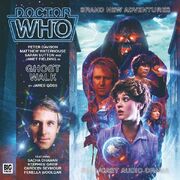 Continuity
to be added
External links
Main Range
Fifth Doctor
Adric, Nyssa, Tegan
Nyssa, Tegan, Marc
Nyssa
Nyssa, Brewster
Nyssa, Hannah
Nyssa, Tegan
Nyssa, Tegan, Turlough
Tegan, Turlough, Kamelion
Tegan, Leela
Turlough
Peri
Peri, Erimem
Amy
Solo travels
All stories in the main monthly range are included in this navigation box including the "subscriber exclusive" stories which are part of Big Finish Productions' subscription service for this range. All other stories are represented in other navigation boxes.