Gerald Carter Kneale (1875-1942) was at one time head of Torchwood Three.
Kneale was born in 1875. He initially trained in military intelligence before joining Torchwood One at the age of twenty-four in 1899.
One of his first assignments was helping Torchwood Cardiff with the Centurian Incident on 31 December 1899 and its clean-up. He grew attached to the city and was an early supporter of the Rift Theory, whose other supporters included Captain Jack Harkness. On his return to London, he lobbied for a transfer to Cardiff but it wouldn't be until 1907, when a schism occurred at Torchwood Cardiff, that he would get his wish granted. The disharmony that transpired resulted in the controversial appointment of Kneale as the new leader of Torchwood Three. The fear was unfounded; under his command, the team made great strides. (COMIC: Rift War!)
In June 1918, Gerald and Harriet Derbyshire put Thomas Reginald Brockless, a shell-shocked soldier, into cryogenic freezing on the instructions of a mysterious woman from the future. Kneale ordered Brockless awoken every year around 21 June so the world could be saved when the time came. (TV: To the Last Man)
Kneale held himself responsible for Derbyshire's death in 1919. He stepped down as Torchwood leader and became more of a consultant than an active member.
He died in 1942, becoming one of the few Torchwood operatives not to be killed on active service. (COMIC: Rift War!)
Behind the scenes
[
]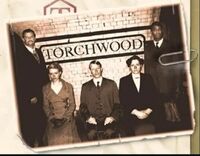 The full version of the photograph seen in the episode was released by the production team.