Frostfire was the first story of the first series in The Companion Chronicles audio range. It was produced by Big Finish Productions. It was written by Marc Platt and featured Vicki Pallister.
Publisher's summary
Edit
Vicki has a tale to tell.
But where does it start and when does it end?
Lady Cressida has a secret. She keeps it deep in the cisterns below the Temple of Astarte with only one flame for warmth. And it must never get out.
The First Doctor, Steven and Vicki go to the fair and meet the fiery Dragon, the novelist Miss Austen and the deadliest weather you ever did see.
But which comes first?
The Future or the Past?
The Phoenix or the Egg?
The Fire or the Frost?
Or will Time freeze over forever?
Part one
Edit
to be added
Part two
Edit
to be added
References
Edit
The Cinder mentions the Doctor's hearts.
Buildings
Edit
Individuals
Edit
The Doctor, Vicki and Steven Taylor are joined on this adventure by Jane Austen.
Locations
Edit
The Doctor dances a gavotte with Jane Austen.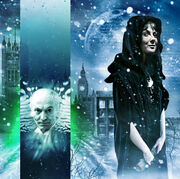 Continuity
Edit
External links
Edit
Community content is available under
CC-BY-SA
unless otherwise noted.