Jurassic World: Dominion Dominates Fandom Wikis - The Loop
Play Sound


Faith Stealer was the sixty-first story in Big Finish's monthly range. It was written by Graham Duff and featured Paul McGann as the Eighth Doctor, India Fisher as Charlotte Pollard, Conrad Westmaas as C'rizz and Stephen Perring as The Kro'ka.
It was the first story of the second tetralogy of Eighth Doctor stories set in the Divergent Universe. This story is Duff's only contribution to Doctor Who fiction as a writer.
Publisher's summary
[
]
When the Doctor, Charley and C'rizz find their journey through the Interzone interrupted by a nightmarish vision, they are surprised to find the Kro'ka offering the perfect solution...
The Multihaven — a vast array of religions and faiths housed in one harmonious community — appears to offer the perfect sanctuary in which to convalesce. But under the guidance of the charismatic Laan Carder, one religion seems to be gathering disciples at an alarming rate...
With the Doctor and Charley catching glimpses of an old friend and C'rizz on the receiving end of some unorthodox religious practices, their belief, hope and faith are about to be tested to the limit.
It's time to see the light.
Plot
[
]
to be added
Cast
[
]
References
[
]
The Doctor
[
]
The Doctor's worst nightmare is the TARDIS being shattered into a million shards.
Individuals
[
]
C'rizz still does not understand the concept of time.
Religion
[
]
Notes
[
]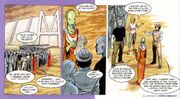 This is the first story of the second season of the Divergent Universe arc.
This story is unusual in that it does not feature the TARDIS. However, it does feature an illusory version of the TARDIS created by the Miraculite.
This audio drama was recorded on 11 and 12 June 2004 at the Moat Studios.
An illustrated preview for this story appeared in DWM 348 illustrated by Martin Geraghty.
This story was originally released on CD. It is now available as a download only.
Continuity
[
]
External links
[
]
Main Range
Fifth Doctor
Adric, Nyssa, Tegan
Nyssa
Nyssa, Brewster
Nyssa, Hannah
Nyssa, Tegan
Nyssa, Tegan, Marc
Nyssa, Tegan, Turlough
Tegan, Turlough, Kamelion
Tegan, Leela
Turlough
Peri
Peri, Erimem
Amy
Solo travels
All stories in the main monthly range are included in this navigation box including the "subscriber exclusive" stories which are part of Big Finish Productions' subscription service for this range. All other stories are represented in other navigation boxes.