Wiki Targeted (Entertainment)
Play Sound


Exotron was the three-part story comprising part of the ninety-fifth release in Big Finish's monthly range. It was written by Paul Sutton and featured Peter Davison as the Fifth Doctor and Nicola Bryant as Peri Brown.
Released in 2007, it was the the second audio story that featured the Fifth Doctor and Peri Brown without Erimem. The first, Red Dawn, had been published seven years earlier in the year 2000.
Exotron (A Three-Part Story)
"The Farakosh attack us — and my Exotrons defend us."
On a distant colonial outpost of Earth, a group of terraformers is under threat from the planet's most fearsome predator: the giant carnivorous Farakosh. All that stands between the colonists and a grisly death are the Exotrons — huge robots equipped with devastating firepower, designed by the outpost's leader, Major Taylor.
But all is not as it seems. How are the Exotrons controlled, and where did the colonists find the resources to build them? The Doctor wants answers and Taylor is reluctant to provide them.
Meanwhile, outside the compound, the Farakosh are massing...
to be added
The Doctor has studied Greek and knows the language.
The Doctor is prepared to sacrifice himself, noting that the TARDIS will look after Peri.
Telepathy can not only allow two minds to communicate, but with enough telepathic energy the stronger mind can actually control the weaker mind.
The planet is immersed in telepathic fields, allowing some individuals to hear the thoughts of others.
Peri studies the xerophytes on the unnamed Earth colony and collects several samples to bring back to the TARDIS.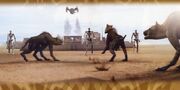 Exotron is three episodes long. The other episode on the second disc is Urban Myths.
This release includes behind-the-scenes interviews with members of the cast.
After AUDIO: Red Dawn, this is only the second Fifth Doctor audio drama to feature Peri but not Erimem.
This audio drama was recorded on 5 and 6 February 2007 at The Moat Studios.
Peter Davison and John Duttine had previously worked together on the television series Ain't Misbehavin' from 1994 to 95.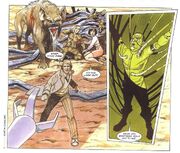 Main Range
Fifth Doctor
Adric, Nyssa, Tegan
Nyssa
Nyssa, Brewster
Nyssa, Hannah
Nyssa, Tegan
Nyssa, Tegan, Marc
Nyssa, Tegan, Turlough
Tegan, Turlough, Kamelion
Tegan, Leela
Turlough
Peri
Peri, Erimem
Amy
Solo travels
All stories in the main monthly range are included in this navigation box including the "subscriber exclusive" stories which are part of Big Finish Productions' subscription service for this range. All other stories are represented in other navigation boxes.
Community content is available under
CC-BY-SA
unless otherwise noted.