Spider-Man: No Way Home Trailer Dropped - The Loop
Play Sound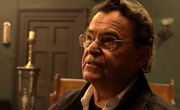 Ernest A. Vincze, BSC, GBCT[1] — usually credited as Ernie Vincze, BSC (born 25 November 1942) — has been the director of photography (DP) of more Doctor Who stories than any other person. This distinction applies even when counting lighting directors, the closest thing to a cinematographer in the 1963 version of the programme. As the first British cinematographer to be credited on the show, he was also the first to be a member of the prestigious British Society of Cinematographers at the time of their work on Doctor Who, a feat not equalled until Simon Archer worked on The Lodger[2]. He is also a member of the highly selective Guild of British Camera Technicians, making him perhaps the best-credentialed DP to work on episodic Doctor Who. Vincze was the exclusive director of photography for the Christopher Eccleston series. He alternated production blocks with Rory Taylor after David Tennant's hiring. This arrangement continued until the end of the 2009 specials, where Vincze's final contribution to Doctor Who was The Waters of Mars.
Vincze was named the "Best Director of Photography" by the members of the Welsh chapter of the British Academy for Television Arts for his work on Voyage of the Damned. Consequently, he is one of only two cinematographers (or lighting directors) of Doctor Who universe shows — along with Torchwood's Mark Waters — to have won any sort of BAFTA for their work.
External links
[
]
Footnotes
[
]
↑ John Wilcox, the Dalek movies' DP, was also a member of the BSC, but his work was not for a production generally considered to be part of the Doctor Who canon.