Entanglement was the third story of the fifth series of The Early Adventures, produced by Big Finish Productions. It was written by Robert Khan and Tom Salinsky, narrated by Maureen O'Brien and Peter Purves and featured the First Doctor, Vicki Pallister and Steven Taylor.
Publisher's summary
Edit
Cambridge, England, the mid 1930s. When the Doctor, Steven and Vicki get separated from the TARDIS they are forced to spend some time amongst the ancient spires of Sedgwick College. The college is mid-way through a leadership crisis following the unexplained disappearance of the Master of Sedgwick, Sir Isaiah Hardy. An election for his replacement is now taking place.
But is that all that's happening in this seemingly peaceful location? The Proctors are behaving in mysterious ways and the students are prone to bursts of unexplained violence. When one of his companions also vanishes, the Doctor realises that there's more at stake here than control of an educational establishment. A dark plan is underway - one that threatens the entire future of humanity itself!
The Wall of Death (1)
Edit
to be added
Photographic Evidence (2)
Edit
to be added
The Hour of Voting (3)
Edit
to be added
The Entanglement Machine (4)
Edit
to be added
References
Edit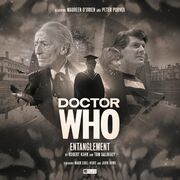 Continuity
Edit
External links
Edit
Community content is available under
CC-BY-SA
unless otherwise noted.