Doctor Strange in The Multiverse o Madness - The Loop
Play Sound

Elisabeth Clara Heath-Sladen (1 February 1946[1][2], Liverpool, England – 19 April 2011[3]) played Sarah Jane Smith. She appeared as a regular on Doctor Who with both Jon Pertwee and Tom Baker. She also appeared in the pilot for the spin-off series, K9 and Company. Most recently, she reprised her role as Sarah Jane on Doctor Who and in its spin-off series, The Sarah Jane Adventures.
Early career
[
]
An only child, Sladen developed an interest in performing at an early age, beginning dance lessons when she was five and dancing in one production with the Royal Ballet. She turned to acting and after finishing grammar school, attended drama school for two years.
She began work at the Liverpool Playhouse repertory company as an assistant stage manager. Her first stage appearance was as a corpse. She was scolded for giggling on stage, thanks to a young actor, Brian Miller, whispering the words, "Respiration nil, Aston Villa two" in her ear while he was playing a doctor. Sladen was so good as an ASM that she did not get many acting roles, a problem she solved by deliberately making mistakes. This got her told off again, but she started to get more on-stage roles.
Sladen moved into weekly repertory work, travelling around England. Sladen and Miller married on 8th June 1968, after moving to Manchester, spending three years there. Her most notable role in this time was Desdemona in Othello, her first appearance as a leading lady. She also got the odd part on Leeds Radio and Granada Television, appearing in 1970 as Anita Reynolds, barmaid of The Flying Horse, in six episodes of Coronation Street.
In 1972, Miller was appearing in a play that moved down to London and they moved along with it. Sladen found city life a change, but adapted. Her first television role in London was as a female terrorist in an episode of Doomwatch. This was followed by guest roles in Some Mothers Do 'Ave 'Em and Z-Cars.
Doctor Who

[

]
In 1973, Katy Manning, who was playing the Third Doctor's assistant, Jo Grant opposite Jon Pertwee, was leaving the series. Producer Barry Letts was growing increasingly desperate in his search for a replacement when Z-Cars producer Ron Craddock gave Sladen an enthusiastic recommendation. Sladen arrived at the audition not knowing it was for the new companion role and was amazed at Letts's thoroughness. She was introduced to Pertwee, whom she found intimidating. As she chatted with Letts and Pertwee, each gave the other a thumbs-up when her back was turned. She was offered and accepted the part of investigative journalist Sarah Jane Smith.
Sladen stayed on Doctor Who from the start of season 11 to midway through season 14. She worked with Pertwee as the Third Doctor and Tom Baker as the Fourth Doctor, receiving popular and critical acclaim. When she left the series in 1976, it made front page news — previously only a change of Doctors had received such attention. Bob Baker and Dave Martin intentionally left Sarah's departure scene in The Hand of Fear unwritten; Sladen and Tom Baker co-wrote it themselves. Sladen was sad to be leaving Doctor Who and cried on her last day.
Sladen was heartbroken upon hearing of Jon Pertwee's death in 1996 and cried for weeks afterwards. In a later interview, Sladen stated that Pertwee was "her" Doctor. (BBC interview 1997)
In October 2009, Sladen paid tribute to her boss and friend, Barry Letts, who had died that month, calling him one of her best friends.
Later career
[
]
Sladen returned to Liverpool with her husband and did a series of plays. Notable appearances following that include a two-year stint as a presenter for the children's programme Stepping Stones, a role as a stand-up comic's spouse in Take My Wife and a small part in the movie Silver Dream Racer as a bank secretary in 1980, her only motion picture appearance. The new decade also marked her first appearance at a Doctor Who convention, Who 1, in March 1980 with Ian Marter, who had played companion Harry Sullivan on the programme. In 1981, Letts cast her as the female lead in the BBC Classics production of Gulliver in Lilliput. She continued to appear in advertisements and in another Letts production, Alice in Wonderland (in which she played the Dormouse) and attended Doctor Who conventions in the United States. After the birth of her daughter Sadie Miller in February 1985, Sladen went into semi-retirement, placing her family first. She appeared only occasionally on television.
Reprising Sarah
[
]
Until School Reunion, Sladen's last television appearance as Sarah had been in the 1993 charity special Dimensions in Time. New Doctor Who producer John Nathan-Turner had asked her to return to the series to ease the transition between Tom Baker and new Doctor Peter Davison. She declined, but accepted his second offer of a pilot for a spin-off series called K9 and Company, co-starring with K9, the popular robot dog from Doctor Who. The pilot was not picked up for a series. Sladen would reprise the role of Sarah in 1983 for the twentieth anniversary special, The Five Doctors. In 1995 she played the role once again in the independent non-BBC film Downtime, her last on-screen appearance as the character until 2006.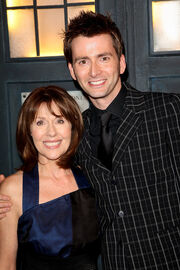 Sladen played Sarah in many audio stories. Two were produced for BBC Radio: The Paradise of Death (1993), and The Ghosts of N-Space (1996), with Pertwee as the Doctor and Nicholas Courtney as the Brigadier. In the early 2000s, Sladen reprised the role for a Big Finish Productions audio series, Sarah Jane Smith, set in the present day. A week before her death, she and Tom Baker had signed a contract to begin recording a new series of Big Finish audio stories.[4]
Sladen was one of several "classic series" cast and crew interviewed for Project Who, a BBC Radio documentary on the revival of Doctor Who that aired in March 2005.
On 25 July 2005, the BBC confirmed that Sladen would appear as Sarah Jane Smith in Series 2 of the revived Doctor Who. The BBC later announced that John Leeson would also be returning as the voice of the robot dog K9. The positive response to Sladen's appearance in the story, School Reunion, led to the BBC commissioning another attempt at a Sarah Jane spinoff series, this time created by Russell T Davies. Invasion of the Bane (not technically a pilot, as the BBC had already agreed to a season), a special premiere episode of The Sarah Jane Adventures, aired on 1 January 2007 and was followed by a ten episode series later in the year. Series 2 aired in 2008, followed by Series 3 in 2009, and Series 4 in autumn 2010. A fifth series was in production, with six episodes (half the series) completed when Sladen fell ill with cancer. Filming was immediately postponed but was expected to eventually resume. However, Sladen died in the early hours of 19 April 2011. Although some tabloids reported that production of SJA was to continue regardless, it was quickly announced filming would not resume and the three completed stories would air as a tribute. The three completed stories aired in October 2011, the last of them ending with a montage that gave a sense of closure to the show.
Sladen also narrated a series of non-fiction behind-the-scenes audio releases from BBC Audio dubbed Doctor Who at the BBC.
In July 2008, Sladen returned to Doctor Who once more for the two final episodes The Stolen Earth and Journey's End. In an interview with Doctor Who Magazine in 2008, she said she expected her appearance in the two-parter to be her final appearance on the parent programme. Her prediction was wrong; she made one more appearance in The End of Time, Part 2, in which the Tenth Doctor briefly arrives at Sarah's house before his impending regeneration in order to say a silent goodbye to his old friend.
While that may have been her last appearance on Doctor Who, it wasn't the last time she had an adventure with the Doctor, as not one, but two Doctors appeared in The Sarah Jane Adventures. David Tennant appeared as the Tenth Doctor in the third series episode The Wedding of Sarah Jane Smith and Matt Smith appeared as the Eleventh Doctor in the fourth series episode Death of the Doctor. That made it nine Doctors she had worked with, thanks to The Five Doctors and Dimensions in Time.
Elisabeth Sladen died on Tuesday 19 April 2011 from cancer. She was sixty-five years old. Many people paid tribute to Sladen, including: Russell T Davies, David Tennant, Matt Smith, Alexander Armstrong[5], Colin Baker, Nicola Bryant, Damian Kavanagh, Keith Jones, Roger Carey, Stephen Fry, Steven Moffat[6] and Tom Baker.[7] The Doctor Who story The Impossible Astronaut, which went to air the following Saturday, was dedicated to her memory. Due to an editing mistake in the beginning of her career, the date listed for her birth on the dedication was incorrect - she was actually born in 1946. It was followed immediately by My Sarah Jane: A Tribute to Elisabeth Sladen, a tribute special on the CBBC channel featuring actors and actresses she had worked with.
Sladen had begun working on her autobiography and had completed the final draft before she was diagnosed with cancer, when she put the project aside. Following her death, it was decided (with the support of Sladen's family) that the autobiography would be published posthumously. Elisabeth Sladen: The Autobiography was published on 7 November 2011, with a foreword by David Tennant and an epilogue by Brian and Sadie Miller. The audiobook version was released on 1 December 2011 narrated by Caroline John, with Tennant and Brian and Sadie Miller reading their contributions.
Credits
[
]
Television
[
]
Doctor Who

[

]
Mini-episodes
[
]
K9 and Company

[

]
The Sarah Jane Adventures

[

]
Mini-episodes
[
]
Direct-to-video
[
]
Audio dramas
[
]
BBC Audio Doctor Who

[

]
Bernice Summerfield
[
]
Sarah Jane Smith
[
]
Big Finish Doctor Who audio stories

[

]
Audiobooks
[
]
The Sarah Jane Adventures

[

]
Target Novelisations
[
]
Documentary
[
]
K9 Unleashed
Chronotrip
The Planet of the Doctor
Genesis of a Classic
On Target with Ian Marter
Other
[
]
External links
[
]
Footnotes
[
]