Earth Aid was the sixth and final release in the second series of Big Finish Productions' The Lost Stories range, featuring the Seventh Doctor, Ace and Raine Creevy.
Publisher's summary
Edit
Welcome aboard the Space Vessel Vancouver. Its mission: to guard a vast shipment of grain from Earth to the planet Safenesthome.
Its Captain is called Ace. She seems a little unsure of herself. In fact, some might almost think she was new to the job...
Its medical officer is called simply "the Doctor", and he's perhaps not all he seems.
When mysterious ships target the Vancouver, Ace and the Doctor are pushed to the limit. Meanwhile, there's something nasty in the grain containers. And it's not very happy....
Part one
Edit
to be added
Part two
Edit
to be added
Part three
Edit
to be added
Part four
Edit
to be added
References
Edit
The Doctor is aware that the Metatraxi have developed a rudimentary form of time travel.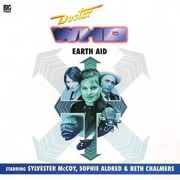 Raine Creevy is based on Raine Cunningham, the companion who was intended to come after Ace in the unproduced season 27. A feature in DWM 255 gave the character the name Kate Tollinger, but according to an interview with script editor Andrew Cartmel in DWM 433, the character was always intended to be named Raine. Cartmel had since discovered someone of the name Raine Cunningham existed in real life and changed the character's family name.
This audio drama was recorded on 4 and 5 October 2010 at The Moat Studios.
This story is set after Survival.
This story was originally released on CD and download.
Continuity
Edit
External links
Edit
Community content is available under
CC-BY-SA
unless otherwise noted.