Cobra Kai Season 4 - The Loop
Play Sound

Down the Middle was an anthology published by Arcbeatle Press. It was the first full instalment in Cwej: The Series, a spin-off starring Chris Cwej, a former companion of the Seventh Doctor.
Publisher's summary
[
]
Chris Cwej. Once, a policeman, tasked with maintaining order through the galaxy. Once, a traveler through space and time, righting wrongs with his friends.
Now – an operative for powers far beyond humanity's comprehension. A soldier in cosmic games, trying to obey the commands of his Superiors, but facing, time and again, heartbreak and sacrifice. Far from everything and everyone he once cared about, and drifting through an infinity of wars, conspiracies and betrayals...
These are his stories – tales of unlikely allies, of doomed love affairs and of wild interventions in Earth's history. From battlefields to cozy meetings with adventuress Iris Wildthyme: a chronicle of a man split down the middle.
CWEJ: DOWN THE MIDDLE is an officially-licensed anthology continuing the adventures of the character created for the Virgin New Adventures book line, featuring contributions from Doctor Who writers Andy Lane (Original Sin, All-Consuming Fire, A Thousand Tiny Wings) and Simon Bucher-Jones (The Death of Art, The Taking of Planet 5), alongside a vast panel of new and diverse talents.
Stories
[
]
#
Title
Author
Featuring
1
A Bright White Crack
Hunter O'Connell
Larles, Kwol, Lady Aesc, Cwejen, Superiors, "Vicky"
2
Fountain of Youth
Jeffrey Koval
Larles, Kwol,

Bilip

3
Flickering Flame
Andy Lane
Iris Wildthyme
4
Hearts of Gold
Sam Maleski
5
Infinity
Matthew Sychantha
Larles, Kwol,

Donacho

6
Judy Collins vs Christopher Cwej
Rachel Redhead
Judy Collins, Larles, Kwol
7
In the Loop
James Wylder
Larles, Kwol,

George Cwej

,

Giashnel

,

Kirstine

8
Ring Theory
Charles Whitt
Larles, Kwol,

Kady

,

the Gestalt

9
Crushing Reality
James Hornby
Larles, Kwol, Superiors, Ferutu, Galactic Heritage, Vorshagg
10
The Weasels and the Warpfield
Simon Bucher-Jones
Quoth
11
When I Remember __________
Larles, Kwol, H. P. Lovecraft
12
The Mushroom at the End of the Universe
Greg Maughan
Larles, Kwol, Cwejen, Roz
13
Collective Unconscious
Michael Robertson
Hytherians
14
Soft Target
Vince Stadon
15
The Eternal
Evan Forman
16
The Ursine Brood
Gerard Power
Larles, Kwol, Cwejen
17
The Trauma Deception
James Wylder
Giashnel, Hytherians,

Suala

18
The PsyCon Prediction
James Wylder, story by Hunter O'Connell
Larles, Kwol, Donacho, Suala
19
The Aftermath
Hunter O'Connell
Larles, Kwol, Iris, Judy, Superiors, "Vicky", George Cwej, Bilip, Kady, the Gestalt, Cwejen
20
The V Cwejes
Tyche McPhee Letts
Kwol, Superiors, P.R.O.B.E., Cyberons, Hytherians, Veltrochni
21
Rebel Rebel
Charles Whitt, Mark Laherty
Larles, Kwol, Koschei, Superiors, Cwejen, Cyberons, "Vicky", Giashnel,

Tina

,

Frey

, the Friend,

Ephem

22
Vignettes of an Uprising
Hunter O'Connell, Gerard Power, Charles Whitt, James Wylder
Larles, Superiors, P.R.O.B.E., Cousin Eliza, Cwejen, Kirstine, Tina, the Friend, Ephem
Notes
[
]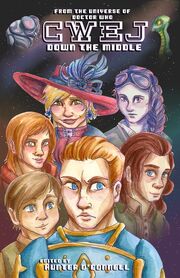 When the anthology was first announced, an alternate cover with a different logo was released.
At 686 pages, the paperback edition of the anthology is the longest work of DWU prose covered by this Wiki.
The PsyCon Prediction was originally named Cwej and the Thief.[1]
The cover art by Bri Crozier depicts in the front row (from left to right) Larles, Chris Cwej, and Kwol; in the second row Judy Collins, Iris Wildthyme, and

Yanna

; and in the upper corners a Hytherian and a Geldex.
The back cover art by Johannes Chazot depicts Larles, Kwol, and Cwej.
Aside from the illustrations printed in the anthology, an additional, online-exclusive illustration for the story The Ursine Brood was created by artist

Kern McCarthy

and released through the series's official Facebook page.[2]
Katy Manning, who played Iris at Big Finish Productions and whose likeness appears on the cover, endorsed the anthology on her Twitter account.[3]
Gallery
[
]
External links
[
]
Footnotes
[
]