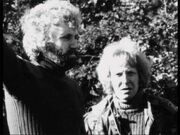 Douglas Camfield (born 8 May 1931 in India, died 27 January 1984 in Hounslow[1]) was an accomplished director of television from the 1960s to the 1980s. In addition to Doctor Who, his credits include Z-Cars, Paul Temple, Van der Valk, The Sweeney, Blake's 7, Shoestring, The Professionals and the BBC dramatisation of Beau Geste.
He was a production assistant on several early Doctor Who stories, including An Unearthly Child and Marco Polo. His earliest directorial effort for the programme was on 9 October 1963, when he directed some 16mm film inserts for "The Cave of Skulls", "The Forest of Fear" and "The Firemaker". (REF: The First Doctor Handbook). His first directorial credit was on the Planet of Giants episode "Crisis". He directed several other serials, including:
It is reported that he declined the offer to become producer of Doctor Who in 1969, after the departure of Derrick Sherwin. The job instead went to Barry Letts.
As a director, he was known for his meticulous planning and military style. (DOC: Podshock)
An in-joke reference to Camfield was featured in The Web of Fear episode three where the wrapper of a chocolate bar that Driver Evans takes from a platform vending machine is seen to read "Camfield's Fairy Milk Chocolate". (Although the episode itself is still missing from the BBC archives, the in-joke is fortunately immortalised in John Cura's tele-snaps.)
Camfield later made a "Hitchcock" style cameo in The Invasion episode one, in which he played the car driver who gives the Doctor, Jamie and Zoe a lift into London. Unfortunately, this episode is currently missing from the BBC archives and no tele-snaps exist, so there is no visual record as to what the scene would have looked like on-screen.
He appeared, alongside various other stagehands, as one of the "earlier" regenerations of the Doctor in the mindbending contest sequence in The Brain of Morbius in 1976. Based on this, Lance Parkin would later base his description of Patience's husband on Camfield's appearance.
Camfield later sought to get producer Philip Hinchcliffe to commission his script for the programme. This involved aliens and the French Foreign Legion and would have killed off the character of Sarah Jane Smith. (DOC: Changing Time) However, this story was not produced and Sarah left the programme quite alive in The Hand of Fear.
Douglas Camfield had served as an officer in the British Army. He was married to the actress Sheila Dunn, whom he cast in Inferno as Dr Petra Williams. According to Ian Fairbairn in the DVD documentary Podshock, some time after directing The Seeds of Doom, Dunn demanded that Camfield stop directing Doctor Who, as she felt it placed him under too much strain. The couple were near Ely Cathedral at the time of the conversation, and so Camfield went into the cathedral and swore on the high altar that he would not do another Doctor Who story — an oath which he kept.
Camfield suffered from a heart ailment, and died of heart failure in his sleep in 1984 aged 52.
He was one of only three directors (along with Christopher Barry and Lennie Mayne) to direct Doctor Who stories featuring William Hartnell, Patrick Troughton, Jon Pertwee and Tom Baker.
In 1990, Douglas Camfield - A Tribute a special magazine, compiled and edited by Doctor Who Magazine writer Philip Newman , was published as a special edition of the Doctor Who fan magazine The Frame, produced by David J Howe, Stephen James Walker & Mark Stammers. It featured wide-ranging tributes from many of Douglas' friends, colleagues and fellow artists alongside an interview with his widow Sheila.
External links
Edit
Footnotes
Edit