The 2010 Doctor Who at the Proms were the second and third performances of Doctor Who at the Proms
They were broadcast live from the Royal Albert Hall on BBC Radio 3 between 24-25 July 2010 with commentary by Petroc Trelawny, forming Proms 10 & 11 of the 2010 season.
A 60 minute edit of the prom was broadcast on television on BBC Three on 6 September, followed by a 90 minute edit four days later on 10 September 2010. In addition to this a special 25 minute edition of Doctor Who Confidential called Backstage at the Doctor Who Prom ran on the BBC Red Button service. The 60 minute edit was also broadcast in high definition on BBC HD on 11 September 2010.
During the 20 minute interval, BBC Radio 3 broadcast the documentary Twenty Minutes: Dance of the Daleks, in which Matthew Sweet talked with some of the composers who had contributed incidental music to Doctor Who over the show's 47-year history.
Synopsis
Edit
For the second time since its revival, Doctor Who's music will be enjoyed by numerous fans since the previous Proms in 2008. Everyone's favourite monsters are here! Nothing else to do but hang on for the ride, and see where you end up.
Programme
Edit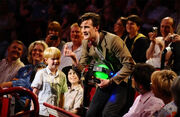 A message from the Doctor interrupts Karen Gillan, who is trying to introduce 'Amy's Theme'. The Doctor asks the audience to yell "Hello, Doctor" so he can lock onto their signal. He gets a clear picture, but upside down. The Doctor tells everyone to hang on, makes fun of people wearing wigs and urges ladies to hold their skirts down. He realises his screen is upside down and fixes it and then asks for one more "Hello, Doctor" because he likes being given a big greeting.
The Doctor explains that he has ended up in the Royal Albert Hall in 2207 (possibly meaning 10:07 PM instead of a year) when the show is almost over and the TARDIS then transported him to an unknown location. The TARDIS has locked on to an overloading fold-back quazar engine, which has gone into overdrive, and is only deadly when it starts beeping. It starts beeping slowly, which the Doctor dismisses as a high-pitched beeping is the warning. It then beeps in a higher tone. The Doctor says that as long as he has his sonic screwdriver, he doesn't have to worry and takes out a toothbrush by mistake. Angry with himself for doing that again. The Doctor decides he has to find a safer place to defuse the bomb and has the audience bid him farewell.
To the audience's shock, the Doctor emerges into the Albert Hall. He is equally surprised, then tells the audience there is nothing to worry about so long as the beeping does not stop; it will detonate from the slightest vibration then. The beeping stops, forcing him to briefly abandon the engine. However, it does not detonate and the Doctor picks it up and heads into the crowd. He looks for someone to help, but refuses to have an adult help as they might hit him. The Doctor takes a boy named Ellis from his seat.
He picks a wire from the engine and asks Ellis if he can see it, which says he can. The Doctor is surprised by how sharp he is and explains that the wire he's holding is psychic wire, which is so thin that its practically imaginary. He compliments the boy again, saying he's "one step ahead of the game". He has Ellis hold the wire in his hand, then in his mouth to save his hand. The Doctor has Ellis keep his head still and is taken aback by how serious Ellis is taking this when he doesn't giggle at the mention of doing so for comical effect. This makes the audience cheer. The Doctor goes on about how ridiculous his plan seems. He needs to use Ellis as a biological transducer in order to disperse the engine's energy through the Wi-Fi in the hall to deactivate it.
Before he can finishing gloating, the Doctor has to perform his task by the wooshing engine. The Doctor informs the audience that he has saved the Royal Albert Hall. He thanks Ellis and returns him to his seat and asks for his name. He has the crowd cheer for Ellis before continuing about side-effects. He warns Ellis that he may have a sore throat in the morning, and "develop x-ray vision and turn into a giant bird; but that rarely happens." At first, the Doctor tells everyone there are no side-effects, then says "Unless you have your mobile phone on, in which case, you're going to die"; ITV had also been 'blown off the air'. He leaves after reading a pamphlet and insulting Matt Smith for having a 'dull name' and wishing the audience a good night.
Act 2 continues Edit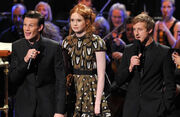 List of music
Edit
Interval (20 mins)
Act Two
Piece
Composer
Conductor
Performer(s)
Duration
Notes
Carmina burana - "O Fortuna"
Carl Orff
Grant Llewellyn
BBC National Orchestra of Wales
2'44''
Amy
Murray Gold
Ben Foster
BBC National Orchestra of Wales
3'23''
Liz, Lizards, Vampires and Vincent
Murray Gold
Ben Foster
BBC National Orchestra of Wales
8'25''
Die Walküre - The Ride of the Valkyries
Wagner
Grant Llewellyn
BBC National Orchestra of Wales
5 minutes
This is Gallifrey / Vale Decem
Murray Gold
Ben Foster
Mark Chambers
BBC National Orchestra of Wales
6'31''
Pandorica Suite
Murray Gold
Ben Foster
BBC National Orchestra of Wales
10'14''
Song of Freedom
Murray Gold
Ben Foster
BBC National Orchestra of Wales
3'52''
Doctor Who theme
Ron Grainer
Ben Foster
BBC National Orchestra of Wales
1'37''
People interviewed
Edit
Doctor Who Scene
BBC National Orchestra of Wales
Documentary Crew
For Doctor Who
Some scenes from this prom take inspiration from series 5:
There is a variation of the Doctor's 'wibbly wobbly timey-wimey' quote (Wibbly Wobbly Explody Thing).
The Planets Mars is played in this prom. The Planets Jupiter appeared in the previous Dr. Who Prom
The Doctor mentions ITV has been blown off air.
This isn't the first time a lone Dalek has commanded a conductor (CON: Music and Monsters).
to be added
Filming locations
Edit
Production errors
Edit
to be added
Home video releases
Edit
DVD and Blu-Ray release
Edit
The concert was released on DVD and Blu-Ray along with A Christmas Carol in 2011. However, the concert is scaled down to 60 minutes on the DVD and Blu-Ray, with The Mad Man in a Box, Short Ride in a Fast Machine, Portmouths Port, The Planets - Mars, O Fortuna, Liz, Lizards, Vampires and Vincent, The Ride of the Valkyries and Song of Freedom all omitted from the DVD.
Community content is available under
CC-BY-SA
unless otherwise noted.