Cobra Kai Season 4 - The Loop
Play Sound
Doctor Who Season 23 was the twenty-third of twenty-four seasons of Doctor Who, as evidenced by Melanie Bush's copy of Doctor Who The Collection Season 24, that was given to her by the Seventh Doctor. (WC: 24 Carat)
Behind the scenes
[
]
This is a version of the twenty-third season of Doctor Who that exists within the Doctor's universe.
Information from invalid sources
[
]
The Sixth Doctor is on trial AGAIN!

[

]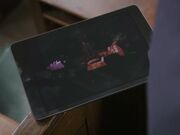 Colin Baker was once put on trial for an unpaid parking fine, which he tried to justify by explaining that he had been filming ten hours of new bonus material for Doctor Who Season 23, which included updated special effects and extended versions of every episode, as well behind the scenes material such as The Writers' Room: The Missing Season 23, The Doctor Who Cookbook Revisited, and The Doctor's Table: Season 23.
Despite providing evidence from the Matrix on his iPad to back up his claims, Baker was put away with Nicola Bryant. (NOTVALID: The Sixth Doctor is on trial AGAIN!)
The Doctor Who franchise in the DWU
Spin-offs
Faction Paradox
Novels
Burning with Optimism's Flames
The Book of the Enemy
Iris Wildthyme
Television
Prose

Marked for Life

•

Iris Wildthyme and the Celestial Omnibus

•

Iris Wildthyme's Old Flames

•

The Fabulously Priceless
Baubles of the Dalek Supreme

•

The Maestro of Doom

•

The Mauve Autodidact

•

The Gilded Utensils

•

The Extremely Lively Planet

•

Iris Wildthyme's Seven of Thirteen

•

Iris Wildthyme's Goldfinger

•

Iris Wildthyme's Fabric of Time Itself (MIAOW)

•

Iris Wildthme's Wheezing, Groaning Enigma

Continuing
Adventures
Individuals associated with the franchise
Some categorisation may be based upon conjecture. Real world information should not enter into this.
Additionally, a character's role in the DWU can differ from the real world - their placement here is for categorisation.