Wiki Targeted (Entertainment)
Play Sound

Doctor Who Magazine has, at times, bundled in a free disc of audio material for the purchaser, offering exclusive audio stories, interviews, and trailers for upcoming productions.
FlexiDisc
[
]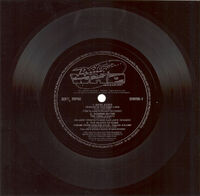 The first experiment on including audio in the magazine was in DWM 167 in November 1990. The Magazine included a FlexiDisc -- a plastic sheet about 7 inches square, with 3 tracks of music:
Mark Ayres - Terror in Totters Lane (music from Remembrance of the Daleks, published on the album Myths and Other Legends.
Dominic Glynn - The Trial (excerpt), (music from The Trial of a Time Lord. This was to be published on the album Black Light II - The Remixes from Silva Records, but contractual issues stalled the album.
The Slaves of Kane - Theme from Abslom Daak: Dalek Killer, an original composition by Dominic Glynn.
The offer was popular, but playing the FlexiDisc was problematic since it tended to slip on the turntable and would distort easily.
Big Finish CDs
[
]
Once Big Finish Productions started publishing new audio adventures, it was a natural fit to give away promotional discs with DWM. From 1999 to 2008, these discs typically offered exclusive audio stories and trailers for newly released discs, released roughly one per year.
With the advent of the Internet, it became more cost effective to offer downloads instead of shipping physical CDs. Starting with the 2009 release The Mists of Time, promotional stories have only been offered via download.
External links
[
]
The Millennium Effect details the FlexiDisc and other unrelated memorabilia.