Spider-Man: No Way Home Trailer Dropped - The Loop
Play Sound
Doctor Who: The Novelisation of the Hit TV Movie was a book that was adapted from the titular TV movie. It was cited when the Doctor mentioned that he couldn't remember if he had a mother. (PROSE: Bafflement and Devotion)
Behind the scenes
[
]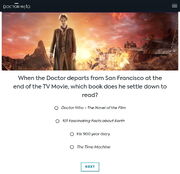 On the Doctor Who website doctorwho.tv, in the quiz "How much do you know about the Eighth Doctor?", one of the questions is about the book in which the Doctor read after the end of the TV movie, with the first response being Doctor Who - The Novel of the Film.[1]
Footnotes
[
]
The Doctor Who franchise in the DWU
Spin-offs
Faction Paradox
Novels
Burning with Optimism's Flames
The Book of the Enemy
Iris Wildthyme
Television
Prose

Marked for Life

•

Iris Wildthyme and the Celestial Omnibus

•

Iris Wildthyme's Old Flames

•

The Fabulously Priceless
Baubles of the Dalek Supreme

•

The Maestro of Doom

•

The Mauve Autodidact

•

The Gilded Utensils

•

The Extremely Lively Planet

•

Iris Wildthyme's Seven of Thirteen

•

Iris Wildthyme's Goldfinger

•

Iris Wildthyme's Fabric of Time Itself (MIAOW)

•

Iris Wildthme's Wheezing, Groaning Enigma

Continuing
Adventures
Individuals associated with the franchise
Some categorisation may be based upon conjecture. Real world information should not enter into this.
Additionally, a character's role in the DWU can differ from the real world - their placement here is for categorisation.