This article needs to be updated.
Cards beyond the first series (91-345) need to be added.
These omissions are so great that the article's factual accuracy has been compromised. Check out the discussion page and revision history for further clues about what needs to be updated in this article.
Doctor Who: Monster Invasion is a card game, very much like the Battles in Time cards. There were 90 cards in the first series. They have stats, like Top Trumps. These are: Scariness, Cunning, Strength, Ruthlessness and Power. The initial set of cards features images from the 2005 reboot up to, and including Series 5. There were also 16 cards that could be used with the interactive website to create 3D effects that 'come to life', and other enhanced game features. There are 345 cards to collect.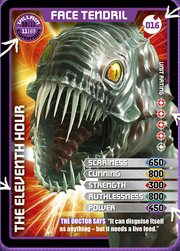 The Prisoner Zero card is named "Face Tendril". This was what it was referred to by Matt Smith and Karen Gillan before The Eleventh Hour was shown.
Initial card releases
Edit
Bold denotes interactive cards
Following the initial release set of 90 cards, a nationwide release of 165 cards was boosted by a further release of 180 cards. These were available to purchase independently of the magazine, at high street retailers and newsagents.
In July 2012 it was announced that from issue 32 a third brand-new set of 126 cards were to be added that would be exclusively with the magazine. Furthermore magazine collectors were guaranteed different cards in every part (i.e. no duplicates) and also that they will collect all 126. Small print on the packs revealed the title would run to at least issue 52.
DWMI 32 included an exclusive special edition Ultra Rare care featuring Rory Williams and Silent.
With Doctor Who Monster Invasion issue 33, subscribers (and readers of Doctor Who Adventures 280), received an exclusive 5/5 card featuring The Silence.
Notable information
Edit
Card #189 features River Song's second incarnation, Mels. Her last name is given as "Zucker."
Related articles
Edit
External links
Edit
Community content is available under
CC-BY-SA
unless otherwise noted.