Doctor Who: A Celebration was a Children in Need concert, performed on 19 November 2006 at the Wales Millennium Centre.
It was the very first Doctor Who-related concert, paving the way for Doctor Who at the Proms in years to come. Like the Doctor Who Proms to come, it featured a lead actor as a host (David Tennant), and Doctor Who monsters in prosthetics (Ood, Daleks, Clockwork Droids, Cyberman), on-stage and among the crowd.
Doctor Who: A Celebration featured the BBC National Orchestra of Wales, conducted by Ben Foster, the BBC National Chorus of Wales, and performances by Melanie Pappenheim and Gary Williams.
As well as music from series 1 and 2, composed by Murray Gold, this concert also contained performances of "The Runaway Bride" and "Love Don't Roam" (sung by Gary Williams) from The Runaway Bride, which would not be released for another month. The former piece was performed alongside a preview of the car chase scene from the upcoming Christmas special.
The episode of Doctor Who Confidential which aired following The Runaway Bride on Christmas Day, Music and Monsters, focused on this concert.
Programme
Edit
Act 1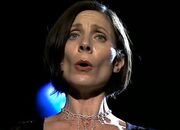 Concert Prologue
Rose Sequence
Monster Mash / Space & Monsters Sequence
Music from The Tenth Doctor
"The Christmas Invasion Suite"
Sneak preview of The Runaway Bride
Interval
Act 2
Questions and Answers - with David Tennant, Murray Gold, Russell T Davies
Music crew
Edit
With thanks to Wales Millennium Centre
Front of House Sound - AB Acoustics
Cameras - Mike Goodman, John Archer, David Brice, David Gopsill, Jon Gout, Geof Greenslade, Dogan Halil, Chris Hatcher, Paul Morris, Wayne Ratcliffe, Nigel Thomas
Show Caller - Kate Salberg
Video Screen
Production Team - Caitlin Campbell, Sarah Cooper, Richard Harrison, Kate Jones, Malcolm Kearney, Lindsey McKenna, Dafydd Meredith, Megan Pinches, Emma Samuel, Martyn Stevens, Ewan Whiteside
Production Team Assistant - Carlie Smith
Doctor Who Film Sequences - Matthew Scarff, Thomas Ioannou
New Media
Doctor Who Senior Brand Executive - Edward Russell
Production Executive [sic] - Derwina Burt, Julie Scott
Executive Producer for Doctor Who - Julie Gardner
List of music
Edit
to be added
Filming locations
Edit
External links
Edit
Footnotes
Edit
Community content is available under
CC-BY-SA
unless otherwise noted.