Do You Remember the First Time? was the episode of Doctor Who Confidential broadcast in conjunction with Blink. It was notable for being David Tennant's professional directorial debut. Because Tennant was either narrating or in-vision for every scene, it balanced out the "Doctor-lite-ness" of the episode it accompanied, converting 9 June 2007 into a Tennant-heavy broadcast day.
Although it contained a brief amount of material relevant to the production of Blink, the episode's main focus was the history of the BBC Television Centre, the studios where the bulk of the so-called "classic" era of Doctor Who was produced. Consequently, the show featured key creatives of the BBC Wales series — such as RTD, Phil Collinson and Steven Moffat — reminiscing about their memories of the original series.
A condensed 5 minute version of this episode was made available to download in .mp4 format for seven days after broadcast, as part of a BBC trial of video podcasts.[1] It was later uploaded to the BBC's YouTube channel. Both of these were cropped into 4:3 aspect ratio.
Aspects of production covered
[
edit
|
edit source
]
The episode contained brief interviews with Carey Mulligan and Finlay Robertson, as well as an examination of how the Weeping Angels were performed. Since the Weeping Angels were given very little pre-broadcast publicity, it was the first time that fans got to see that they were actually people in costume rather than posable statues.
Remember also gave some general insight into the BBC Wales commissioning of Doctor Who, via a rare on-screen appearance of Jane Tranter.
The majority of the episode was concerned with people explaining how their childhood experience watching Doctor Who had led to their current career producing it.
"Ruby" by Kaiser Chiefs, Album: Now 66[2]
"BBC" by Ming Tea, Album: Austin Powers Original Soundtrack
"Easy" by Sugababes, Album: Now 66
"Monster" by Funeral For A Friend, Album: Hours
"Do You Remember The First Time" by Pulp, Album: Shine
"Beware of the Dog" by Jamelia, Album: Now 66
"Starlight" by Muse, Album: Black Holes and Revelations
"Read My Mind" by The Killers, Album: Now 66
"Know Your Enemy" by Rage Against The Machine, Album: Rage Against The Machine
"Thanks for the Memories" by Fall Out Boy, Album: Infinity on High
"Enter The Dragon" by Lalo Schifrin, Album: Enter The Dragon Soundtrack
"The Sweet Escape" by Gwen Stefani, Album: The Sweet Escape
"Living For The Weekend" by Hard-Fi, Album: Stars of CCTV
"Kung Fu Fighting" by Carl Douglas, Album: Fantastic 70's
Elements retained in Cut Down

[

edit

|

edit source

]
Discussion of childhood experience watching Doctor Who is reduced to Steven Moffat, Mark Gatiss, Gareth Roberts - with condensed discussions with RTD, Phil Collinson and Jane Tranter.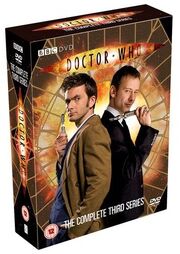 The "Cut Down" version of this episode was included on the Doctor Who: The Complete Third Series DVD box set released on 5 November 2007.
Community content is available under
CC-BY-SA
unless otherwise noted.